School is out and that means Mall of America in Bloomington, Minnesota is rocking. Earlier this month I spent a long weekend at the Travel Blog Exchange Conference held at Mall of America. The family came to opening night in Nickelodeon Universe and had an amazing time and this week we returned since it's always a fun thing to do. While the lines were still minimal (it was a weekday after all) the spirit of summer was in the air as tourists and locals alike took over the mall. There have been a lot of exciting things happening and opening lately. Phase II is expanding like crazy. The new JW Marriott is officially open, there are a ton of new restaurants (keep reading for some suggestions), there are new rides in Nickelodeon Universe and, as always, new stores are opening regularly. That's why I encourage you to cross off as many items as possible on this Mall of America Bucket List Summer 2016 as well as add some of your own.
Here are my picks for things to do at Mall of America this summer:
1. FlyOver America. When you look at this ride cost per minute it's a little pricy but the feeling you have when you land is priceless. You will want to go again and you can for half-price. Read more about the ride here.
2. Burger Burger vs. Shake Shack. Burger Burger entered the scene a few months ago. It's daily freshly ground beef and variety of toppings (fried egg, anyone?) has been a hit at MOA. As I write this Shake Shack it celebrating its Grand Opening. So, which burger is better? Well, only you can decided. It's like the Philly Cheesesteak debate (Pat's or Geno's?). I'll let you know my vote soon.
3. Crayola Experience. There's a lot to say about this brand new (amazing!) attraction but the most Bucket List worthy is printing your own Crayola Crayon (classic childhood memories) with your name (get creative!), having a coloring sheet printed of yourself or family, and splash in the Rainbow Rain. Read more and see videos of the Crayola Experience here.
4. Shredder's Mutant Mash. Besides FlyOver America, which is separate from the Nickelodeon Universe options, this is the newest thrill ride. It, along with Shell Shock, are Teenage Mutant Turtles-themed rides. Yes, the Turtles make an appearance from time to time, too.
5. Feed the stingrays at Sea Life. Every since the stingrays came to Sea Life at Mall of America I've noticed my family spends a lot more time in the aquarium. In fact, I'm pretty sure we spend half of our time time at the stingray exhibit alone. Don't get me wrong, the jellyfish, long underground glass tunnel, and rainforest are all really exciting and cool to look at but those stingrays are extremely friendly and so much fun to pet.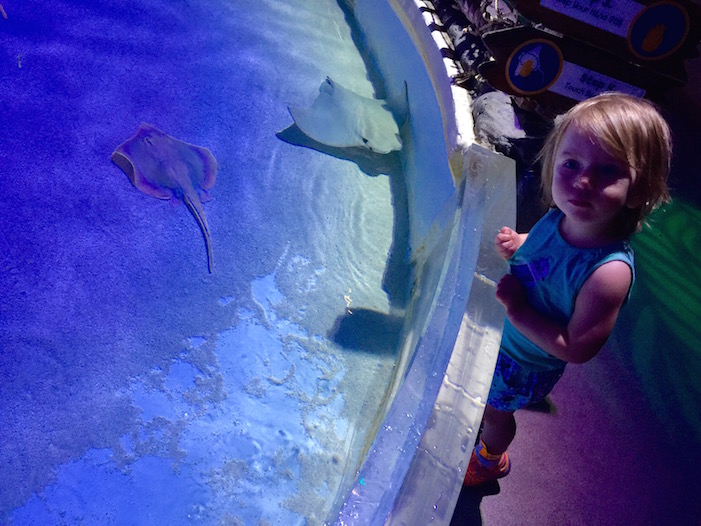 6. Get lost in the Amazing Mirror Maze. My kids ask to go the maze almost every time we're at the mall – which is a LOT! They love. I love it. And I still don't know the exact pattern to get out. That reminds me, I need to visit again soon with my toddler.
7. Disco Fries. Craving something sweet – or salty? Try to new Disco Fries in the new Culinary on North
foodcourt. Here's the challenge – sit at the ONE booth under the disco ball adjacent to the counter. Only then can you cross this one off your list. Good luck!
8. Dine in the new Rainforest Cafe. This former location was on the first floor but now it sits across from sister restaurant Bubba Gump Shrimp, the soon-to-open Margaritaville, and next door to the Crayola Experience. This is on my Summer 2016 Bucket List because every time we try and eat here the line is horrendous so we end up somewhere else.
9. Take a photo with the MOA Star at the Front Door. Taking a photo with the giant star is sure to be a hit this summer and don't be surprised if there is a line to do so! Smile and say: "Shop!"
10. Sit on the Slime. I won't tell you what happens when you plant your tush on this giant slime seat but I will tell you – it's funny!
Care to learn more? Purchase The Unofficial Guide to Mall of America – out this summer!
This page has affiliate links which may result in TVG receiving a small commission.