Minnesota's Mall of America (MOA), aka the mall with Nickelodeon Universe Theme Park in the middle, is a wonderful way to spend the day with your family, especially because it's indoors and open year-round. One of my family's favorite Nickelodeon features is the free Character Meet-and-Greet offered in the park. Every weekend and some weekdays you can count on there being Nickelodeon characters for your children to meet. In fact, there are several opportunities to meet Dora, Diego, Boots, Spongebob, Patrick, Blue, Wonder Pets and Backyardigans.
Blue and Green Spots: These "spots" are the official Meet-and-Greet locations located in the theme park. Always well
organized and with a quick moving line, photographers are on-hand to shoot photos of your little ones with their favorite Nick characters which you can purchase instantly or you can take your own photos. So far we've meet Dora, Diego, Boots, Patrick and Spongebob during our MOA visits.
Toddler Tuesdays: Every Tuesday Mall of American hosts Toddler Tuesdays which is a great way for local stay-at-home-moms  to get out of the house to chat with other moms while offering a little entertainment for the children. But, visitors can participate too. Just recently I had my first experience of Toddler Tuesday when Super Why and the other Super Readers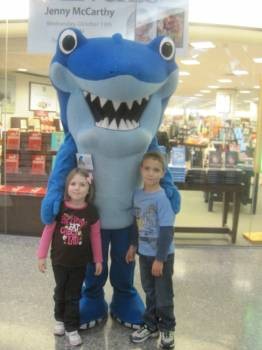 visited the mall. MOA was obviously expecting a lot of people because a long roped line was set up. And guess what! They were correct. My preschooler was thrilled to get to meet Princess Pea but the wait was not for the weak. We stood in line for a half-hour only to be told the characters were going to be taking a half-hour break. I can't blame them, those costumes must be hot. I'm not sure if MOA has any plans to incorporate extra employees into their character schedule any time soon. It would be nice if parents didn't have to wait in line with their exuberant, high-energy children for so long. So, if you go, be prepared for a long wait. Stock up on drinks and snacks and ensure your little one uses the restroom before getting in line.
Other characters: While you're at MOA keep an eye out for Sharky. He's the Mall of America's Underwater Adventures Aquarium mascot. He's frequently found roaming the mall and his escort is often passing out aquarium coupons. On the fourth floor Bubba Gump Shrimp Company often has their Shrimp mascot waving to shoppers and he'll happily pose for a photo too.
Nickelodeon Universe Character Meet-and-Greet at Mall of America is a fun place to take characters' photos. Just don't forget the camera!