Ramona Ramirez Salgado has a smile made of wrinkles. When she's smiling, she'll have one of three items in her hands: a large black wrought-iron pot, a limp dish rag, or the remote control to the old, fat, 12-in television set affixed to the wall. She has clearly cooked many meals and watched a lot of television, as all three of the items she's most likely holding look entirely natural, like an accessory, much like her beige apron or her brown loafer shoes. Her husband, a wiry man with a thick grey beard, is probably unpacking something from his dust-covered truck with the big wheels or watering the many dangling plants hanging along the half-moon set of rooms. On the kitchen table, they have a yellowed log book, handwritten and stained around the edges from coffee and crumbs, that has recorded a lifetime of temporary tenants—and they'll let you pay the $16 a night anytime.
These are the owners of Los Departamentos Adlai—an aqua-green hotel nestled in a friendly residential neighborhood just a mile from the marina. It is the perfect alternative to the more expensive, more populated hotels overlooking the water and the hills of Cerra Tetakawi, the two-peaked picture-perfect mountain that has made the little town of San Carlos an object of postcards. Ramona and her husband are more caretakers than motel managers, and, if you let them, will insist on driving you anywhere or tossing your laundry in with their own. (They'll even hold your suitcases in their living room after check-out hours!). And they, like many of the locals, are so curious about their travelers—if you can speak some Spanish, they'll tell you they love nothing more than chatting with their norteamericanos.
When you arrive in Guaymas, Sonora—whether you've taken a bus (such as Tufesa, a Mexican company with stops all through the Southwest United States and Mexico's Pacific Coast) or simply an airplane—finding a taxi to San Carlos, where you'll find the lovely marina that makes this village the perfect place for snorkeling, boating, or simply sunning, isn't difficult at all. Talking to a taxi driver, of course, might pose some difficulties if you're not at all conversant in Spanish, but, as Ramona will suggest to her English-only customers, if you give the driver the name of your lodging in San Carlos (which is only 13 miles away), the taxi driver will know exactly where to drop you. (One tip: make sure you bargain for the trip before stepping into the taxi, as a one-way trip from Guaymas to San Carlos shouldn't cost you more than $20). Luckily, I came armed with a decade of Spanish lessons, but I can attest that even though you might only be six hours from the border, this isn't Puerto Peñasco, the popular Spring Break destination—lovingly called Rocky Point—just an hour up the coast, where English is, indeed, a second language.
As my dear friend Johanne had already been traveling solo for six weeks, we'd decided that that our weekend would be a cocktail of catching up, tasting tequila, and sleeping on the beach at Playa Algodones —the beach, named for its cotton-like sand, that most locals will tell you is the softest and prettiest. (We wholeheartedly agree, by the way). And we did many of the activities we'd hoped to do: we watched kids play baseball with sticks and firm fruit on the rocky beaches of the classy Club de Playa, we perused the flea market and watched the sun drop behind the rust-colored Tetakawi peaks atop Mirador Escénico, and we enjoyed homemade margaritas on a sunset cruise around the marina with a boisterous American ex-pat and his lovely Mexican wife.
We had a lovely breakfast buffet at the Marina Terra hotel, we swam in the sea, and we did what we most wanted to do in places like our homes just wouldn't allow: we talked. Because the thing about San Carlos is that it literally exudes relaxation—squeezes it out of every meal, swims around the many Americans who've left for a more gentle life, lounges on the sand and in the sea.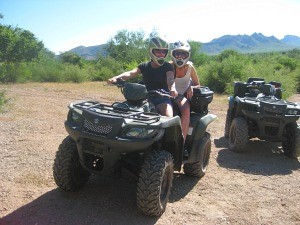 And yet, the trip wasn't all mango margaritas. Though we didn't initially plan on was a 5-hour romp through the ragged Cerra Tetakawi mountains on four-wheelers (and a documentary film crew catching the entire shenanigans on camera) we abandoned our plan to take a boat trip to see the sea lions and instead joined Fernando from Off the Edge Adventure Sports on a ride through the wilderness (we only ran our ATV into the bushes twice, I'd like to report). Zooming over sand dunes, careening through dried arroyos, and spiraling up windy pebbled trails, I can report that we were excellent fodder for their video, which, in fact, you will see on the big screen at when you pop in (yes, I'm the one in the black t-shirt). You can imagine, after an afternoon like that, that our chilaquiles at the infamous Pancho-Villa themed Rosa's Cantina couldn't have tasted any better.
By the end of the weekend, having tasted the best of Sonoran Mexico, we had made a fairly good go of meeting the entire town. We talked to the locals about the fall of tourism with the rise of the cartels (which feel for them about as far as the fall of the Roman Empire might for us), and their hopes that someday the news will subside and more Americans will visit.
If there's anything I've learned in my travels, it's that sometimes, you have to stash away your uncertainties and just jump on an ATV, no training attached, and go. And when you go to San Carlos, don't forget to stop in and say hi to Ramona, who'll give you a big hug on the way out.
SonoranGal Kristin Mock is originally from Atlanta, Georgia but currently calls Tucson, Arizona home, where she enjoys the cacti, the sun, and the close proximity to Mexico. She edits a travel blog and is currently working on her first book, a travel memoir of Spain, Malta, and Colombia.