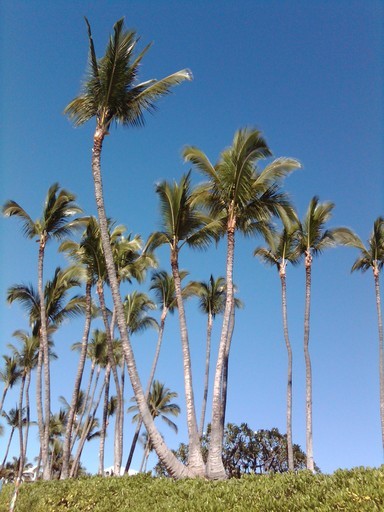 What makes an island vacation destination great? For the Vacation Gals, the best tropical islands have predictably terrific weather, are far enough from our homes (mainland United States) to feel like a true getaway, and have a large variety of activities to appeal to many different types of travelers. The state of Hawaii has been our favorite island retreat spot for years now, and clearly, we're not alone. Maui has been named the "Best Island in the World" for the 17th year in a row by the discerning Conde Nast Traveler Readers' Choice Awards.
Wait, there's more! Maui was also named Best US Island. Kauai, the lush paradise where, without trying to sound too New Agey, I find myself spiritually comforted, was named the second best island. The Big Island of Hawaii and Oahu tied for fourth. (Kiawah, South Carolina, placed third). My kids' favorite snorkel experience was on the Big Island, by the Captain Cook Monument; clearly, great family travel memories can be had on any of the Hawaiian islands.
The Conde Nast Traveler Readers ' Choice Awards are considered a reliable source for what picky travelers, who put thought into where they spend their travel budget, enjoy on their vacations. Certainly, Maui's diverse array of activities has great appeal across sectors.
Maui's Vacation Appeal
Adventurous travelers can hike or bike in Haleakala National Park (Maui's highest peak), snorkel Molokini — although the 1/2 day catamaran-led snorkel trips to Molokini are in my mind overly popular) and zip line with Skyline Eco-Adventures, Flyin Hawaiian Zipline, or Piiholo Ranch Zipline. The Waihee Ridge Trail makes for a fun and exerting hike as well, though the drive there is a big adrenalin-inducing itself!
Backpackers can crash in a hostel on the north shore near the airport, and make their way to fun, casual Paia. This is my favorite "little" town in Maui, far from the touristy feel of Ka'anapali, Kihei and Wailea. It's as mellow, warm and relaxed as is the Polynesian culture itself.
Family travelers can ensconce themselves in one of the several family friendly resorts. For example, the Grand Wailea Resort has water slides and "white water rapids" galore, for example, and the Ritz Carlton Kapalua offers Ambassadors of the Environment programs for kids. Off-resort family-friendly activities include a stop in the Maui Ocean Center; this aquarium is Hawaii's top rated family attraction. The Atlantis Submarine is fun for kids, as is investigating the lava tubes in Hana (though this last one is a big drive for families staying in Wailea, Ka'anapali, etc).
Romantic travel fans can get away from the crowds in Hana. This town is so far removed from the bustle of well-traveled Maui that it feels like an island unto itself. Sunset sails with cocktails are famously romantic activities, and there are several companies providing this service from the Lahaina Harbor (near Kihei and Ka'anapali). The Four Seasons Maui in Wailea is incredibly romantic, especially for a large, full-service resort.
Luxury travelers will find everything they need at the aforementioned Four Seasons Resort Maui at Wailea. It is one of the most pricey options, but travelers see where their money goes; service is top notch, the views are incredible, and the signature restaurant's sunset meal (outdoor dining, with classical music softly piped in and mixing with the crashing waves) makes Ferraro's Bar e Ristorante a destination restaurant for hundreds of tourists who stay elsewhere on the island. Also along the prime Wailea Beach strip are the Fairmont Kea Lani, Grand Wailea Resort, and Wailea Beach Marriott Resort & Spa.
I love every island I've been fortunate to experience in Hawaii, and agree with the Conde Nast Traveler Readers' Choice Awards. Maui, Kauai, Oahu and the Big Island are, indeed the best islands in the US, and Maui deserves its recognition as the best island in the world.