The Millennium Biltmore Hotel in downtown Los Angeles belies the sometimes sorry reputation of LA, and downtown Los Angeles in particular. A common complaint about Los Angeles is that it has no history or culture. Well, that's not completely true, although its politicians seem to have little respect for Southern California's past. Witness the bulldozing of the Ambassador Hotel, historic for being the spot where Robert F Kennedy was assassinated in 1968. Fortunately for the downtown area of Los Angeles, there's no chance of that ever happening to the Millennium Biltmore Hotel. It's an official Los Angeles Historic-Cultural Monument.  Its central location makes is situated well for both business and leisure travelers, but the Millennium Biltmore is more than just a beautiful hotel within walking distance to the Staples Center and Walt Disney Concert Hall. It's a hotel that manages to be both steeped in local history and completely modern, exactly like downtown Los Angeles itself should be.
Talk about an elegant, historic hotel! The Spanish-Italian Baroque and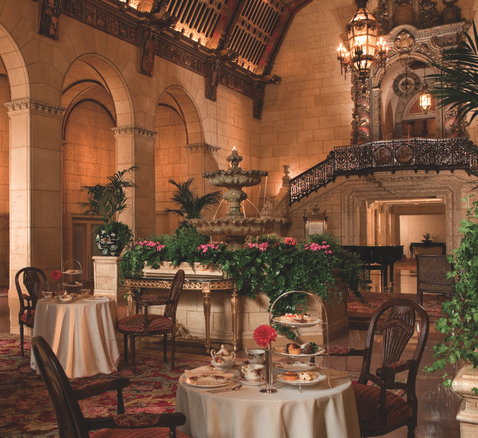 Renaissance interior design is downright magisterial.  Frescoes, murals, travertine walls and imported tapestries all point to the highest standards of classic luxury. The hand painted ceilings of the Millennium Biltmore, which opened in 1923, add artistic touches to what is surely the "grande dame" of downtown Los Angeles. The hotel used to host the Oscars, and many, many movies, TV shows, and commercials were shot here. US Presidents like John F Kennedy, Harry Truman, and Lyndon Johnson all stayed at the Millennium Biltmore during time spent in Los Angeles.
Despite the classic signifiers of the hotel's history and cultural significance, it is run with efficient, warm and forward-looking modernity. The Millennium Biltmore Hotel's Gallery Bar hosted an event for a new group on Los Angeles-area online
travel writers recently, and welcomed us as generously as they have welcomed heads of state in the past. The Los Angeles Consortium of Online Travel is an open group for local travel bloggers and other people who work in the tourism industry. When we were looking around for a hotel or restaurant to host our first meeting, the kind people at Millennium Biltmore Hotel immediately understood how such a meeting could benefit the property (as well as giving us a great, mellow spot in which to network over hors d'oeuvres and wine). What a fantastic host, too; the Gallery Bar is one of downtown LA's best nightspots for the over-21 crowd — that is, it's a wonderful, lush setting for grownups who aren't interested in clubs and bar hopping, but in being able to have actual conversations in classy environs. The Los Angeles Consortium of Online Travel's first meetup was a fun event, made successful by the generosity of the Millennium Biltmore Hotel.
Downtown Los Angeles isn't as popular a travel destination as is, say,
Disneyland or Universal Studios Hollywood. It's rebounding from a serious decline in the last century, though, and becoming a more interesting place for tourists to experience. The history and culture of downtown LA hasn't been totally vanquished by short-sighted developers, nor will it ever be erased. The Millennium Biltmore's plush luxury and stature in the history of Los Angeles is a great example of this, as well as making it a highly recommended place to stay for a Los Angeles vacation.