If I had Cindy Crawford's 50-year-old long and lean model body I might not be writing this post. But my 46-year-old mom body definitely has its jiggly parts. That's why on last week's spring break trip to Puerto Rico I was happy to sample a couple of bathing suits from Beach House swimwear, a new-to-me line that offers modestly cut designs in generally nautical and preppy styles. Classy looks that offer coverage, I'll call it.
First up, I paired the Whimsical Printed Racerback Underwire Bra with the Emma Pull-On Skort (above). The first comment from my husband: "Ooh. I like that." So, there's a plus right off the bat. The belly baring top is one of the more revealing pieces from this swimwear line, but I liked wearing it with the butt-covering skort for a bit of modest balance. With the underwire bra, the top fits snugly, keeping all the key body parts in, even while jumping around in waves in the Caribbean. Same goes for the bottom: the construction is solid, but allows for comfortable movement while swimming. I opted for the sporty skort because I think it will be versatile — I wore it while walking to the beach from our hotel (no need for an additional bottom cover-up since it provides plenty of coverage on its own), but could also use it for kayaking or other water adventuring this summer. The side zipper pocket is convenient for slipping in lip balm and my beloved FitBit (thought I did forget to take out the fitness tracker once before hopping in the ocean; it still works).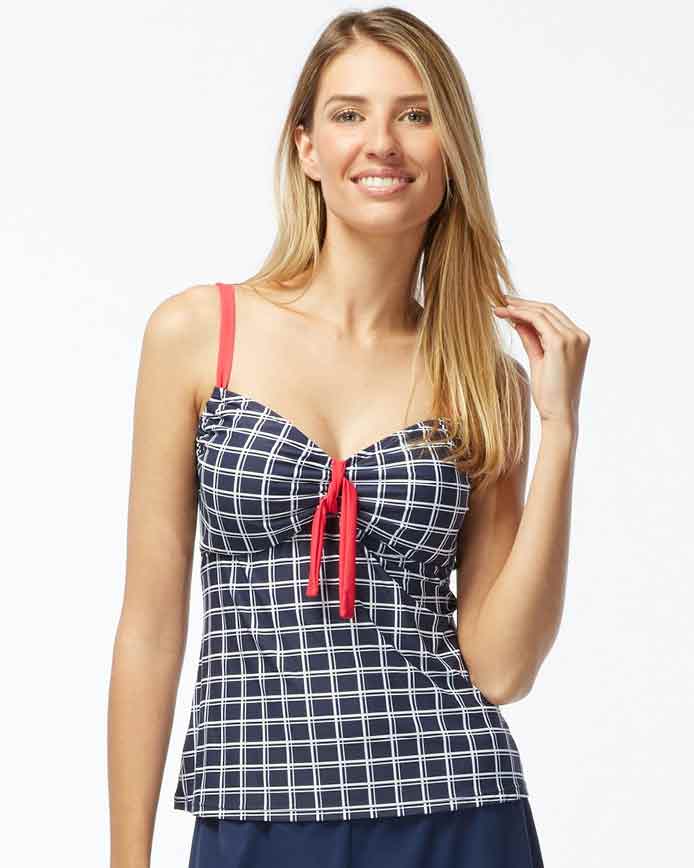 Next, I tried the Windowpane Adjustable Neckline Tankini and the Hayden Adjustable High-Waist Bottom. Again, both items fit snugly. I thought the empire-waist tankini would be roomier, per the image on the model above, but there's definitely no flowy-ness happening. The top hugs my top. And if I had to choose again, I think I'd go for a tankini that doesn't have a tie at the bust; the little knot felt a bit too cutesy on me. Regarding the bottoms, typically I prefer hipster-style bottoms, but was happy that this retro high-waist style has adjustable drawstring sides, so you can opt for more or less coverage here. This duo together definitely fits the "modest coverage" bill.
What's cool about Beach House swimwear is that the company offers dozens of items for mixing and matching. I intentionally sampled tops and bottoms in the same color scheme so I had a couple of pairing options. I also like buying my swimwear this way because my top size is generally smaller than my bottom size; no one size fits all here! Beach House does offer one-piece suits and even "swim dresses," too.
Overall the Beach House swimwear pieces fit a bit smaller than their same-size equivalents from Land's End, the company I typically buy from for mixing and matching. So if you're in between sizes, I might order a size up to be safe. That said, there's nothing worse than too-big, stretched out, saggy swimsuit, so going more snug may not be a bad thing. Beach House swimwear often offers free shipping, so I a say order a bunch to try on at home in different styles and sizes and return what doesn't work!
Beach House swimwear provided complimentary bathing suits for purposes of review.