If you like music, put Nashville, Tennessee on your bucket list. Nashville is where music of all genres is inspired, created, celebrated and performed.
While the Grand Ole Opry put Nashville on the national map, Music City also is home to the Americana, Blue Grass, Gospel and Barbershop music associations. Nashville is rightly proud of the musicians and songwriters who provide the foundation of music created here.
I've twice had the privilege of visiting Nashville. Wherever I went in the Nashville area, I was impressed with the genuine Southern hospitality and polite, friendly people eager to please.
Music City offers a vast array of fascinating attractions. One of my favorites is the Historic RCA Studio B tour—which is more of a listening experience than visual. As our guide played artists' familiar hits, everyone smiled wistfully remembering where there were when those songs were popular.
I almost felt the presence of Elvis, Willie Nelson, Waylon Jennings, Mickey Gilley, Hank Snow, Dottie West and the Everly Brothers. It was here they recorded their top hits. More than 35,000 songs were brought to life by Studio B magic, including more than 1,000 Top 10 American hits and 150 Elvis Presley recordings.
Anita, our astute guide, said Elvis recorded late at night after he chatted with musicians and the tech crew to get everyone in a relaxed mood. Some of his biggest hits were recorded between 4 and 5 a.m.
On my first Nashville trip, our sponsors surprised my travel writer group with a pre-arranged Studio B recording session. Our friendly host handed out lyrics to a well-known love song and served as our director during the recording session. A week later we each received a souvenir CD and group photo in the mail. How cool is that? Yes, other groups can make advance arrangements for a recording session. Tours depart from the Country Music Hall of Fame.
Of course, the highlight of a Nashville visit is a Grand Ole Opry performance. Since its humble beginnings in 1925, the Opry has welcomed visitors year-round. When a devastating flood inundated the Opry House in May 2010, the Opry performed in temporary venues, never missing a performance.
Attracting a multi-generation audience, the Opry has no dress code for performers or guests. I enjoyed every minute of the fast-paced 2.5-hour performance. Although there is no intermission, the audience can eat or drink in the comfy padded pew seats.
During a Saturday night Grand Ole Opry live performance, musicians ranged from fresh-faced 20-somethings to seasoned octogenarians. The audience cheered for veteran artists The Oak Ridge Boys, Jimmy Dickens, Bill Anderson as well as Kellie Pickler and other young performers. All exuded a passion for their music and had a down-home rapport with the audience
If you miss the Grand Ole Opry, you can find live music in many Nashville bars, restaurants, at public events, on downtown street corners and at the airport.
Gaylord Opryland Resort
Any season is a delight for the senses in Gaylord Opryland Resort & Convention Center. Nine acres of lavish indoor gardens are filled with 50,000 tropical plants, cascading waterfalls, pedestrian bridges and elevated walkways. My room had a balcony overlooking the gardens, and the sound of indoor waterfalls lulled me to sleep.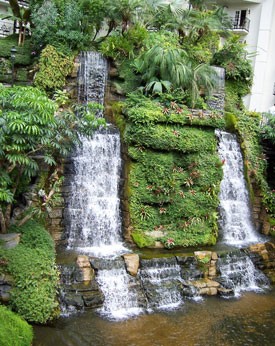 With a constant 68-72 degree temperature, I enjoyed  strolling the serpentine walkways  surrounded by an array of blooming plants and aromas from the flowers and nearby eateries.
A popular conference destination, Gaylord Opryland Resort boasts 2,880 guest rooms, three pools, a fitness center, spa, six restaurants, arcade, shops, lounges and 600,000-square-feet of meeting and exhibit space. Hint: Because the resort is so huge, let the bellman show you to your room after check-in. Just 15 minutes from Nashville's airport, the resort is a five-minute walk from the Grand Ole Opry House.
CruisinGal Pat Woods thanks Gaylord Hotels, The Grand Ole Opry and Tennessee Tourism for their hospitality.