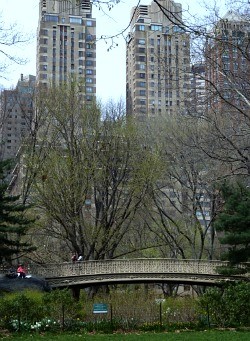 A fabulous NYC hotel discount package recently caught my eye, and I'm looking into availing myself of it for my next NYC summer vacation. That's right: Summer in New York City. It's not as romantic as the uninitiated may think; it's as humid as the Deep South (well…that's perhaps an exaggeration) and the heat radiates up from the sticky sidewalks even late at night. While there are a lot of great things to do in NYC with kids, it's harder to motivate those children out of the comfort of an air conditioned hotel and into the brutal heat than you might think. However: My family goes to New York City every August, and we always have lots of fun. Helping our travel budget survive by using hotel deals and packages is important, hence the usefulness of the NYC hotel deal I found. The best part? It's via Hilton Hotels, so there are seven hotels in NYC to choose from, at a 20% discount. New York City can be a very expensive travel destination, but Hilton's New York Super Sale Package really helps make NYC affordable.
The "NY Super Sale Package — Big Apple, Big Discounts" New York City vacation package includes discounted stays at any of the seven participating members of the Hilton Worldwide Hotels in New York City. These hotels are the (new) Hilton New York Fashion District, Doubletree by Hilton Metropolitan New York City, Doubletree Suites by Hilton Times Square, Hilton Times Square, Hampton Inn Manhattan Times Square North, Hilton Garden Inn New York/West 35th St., and Hilton Garden Inn Times Square. This is a hotel package: Along with discounted rooms, each reservation gets a coupon for a buy one/get one free admission to Madame Tussauds New York.
To have a much more affordable vacation in New York City, book your stay online (or call 800-HILTONS) and use plan code NX or NX1 while reserving your hotel room. This package deal is good now through the end of the year, though there are some unlisted blackout dates.
There are free NYC family vacation activities that help stretch a travel budget, but we all need a place to stay. Hilton's New York Super Sale Package goes a long way towards making a trip to NYC more affordable than ever.
Save