There are many things to do in Ojai, California, ranging from rugged and outdoorsy to elite and pampering.  While some travelers focus on the hikes, and luxury vacation fans spend much of their time in destination spas, guest contributor Jen Jones Donatelli explored the things to do in Ojai that most suit her own travel style; learning about and exploring the arts and culinary scene. Foodies and art lovers be warned — reading this will lead you to start planning your own weekend getaway in Ojai, California! – Ed.
It's easy to see why Ojai is such a mecca for artists. Despite being a short drive from Los Angeles and Santa Barbara, the tiny, peaceful town of 7,500 still manages to feel like a well-kept secret. And there's no shortage of inspiration: from the famed "Pink Moment" sunset that captivates daily over the Topatopa Mountains to Zen-inducing Meditation Mount, you're bound to find something that sparks your creative fire. Even the area's indigenous fruit, the "pixie" (a type of tangerine), manages to seem magical and enchanting.
Having recently spent a long weekend in Ojai, my inner hippie chick has never been so sated. A few of my favorite picks, that are bound to become yours, too:
What better way to indulge your love of art than to go gallery-hopping? A stroll around Ojai's easily walkable downtown area will do the trick. We started off at Tartaglia Fine Art, where I swiftly became obsessed with the retro travel poster prints by Steve Thomas. (What can I say? I'm a Vacation Gal at heart!) Along with Thomas, the work of 18 local artists is on display, and if you're lucky, you might even spot owner Danna Tartaglia painting a work-in-progress in the window.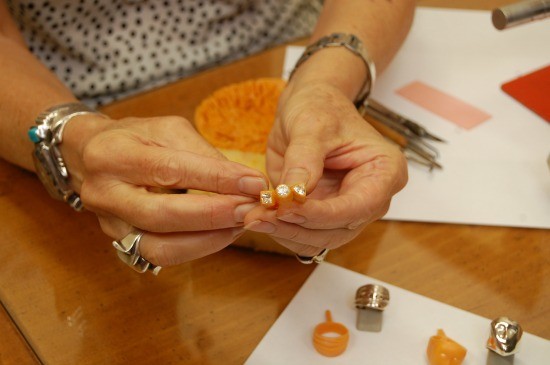 Next up was Human Arts Gallery, a wild, wacky wonderland of fun and funky works of art. Owners Stan and Hallie Katz truly know their stuff—from nesting doll-style folding sculptures by Ted Gall to colorful furniture hand-crafted by David Marsh. Hallie also makes custom diamond wedding rings on-site, fondly known to her customers as "Hallie originals." I also loved OVA Arts, a co-op of sorts where local artists have a dedicated space to show off and sell their wares. Seeking unique, mostly affordable jewelry and tchotchkes? This is your spot.
If you prefer a more social setting for art appreciation, the too-cute-to-be-true Porch Gallery is the place to be. Every Sunday from 8:30 am – 2:30, the gallery holds lively "Porchella" gatherings with live piano music and coffee for all. (Pro tip: hit up the farmers' market down the street afterward.) I especially enjoyed the "Generation Art" exhibit, which features works from local youth attending prominent Ojai boarding schools like Thacher and Oak Grove.
Of course, seeing is believing, and after viewing so much art, you're bound to be inspired to create some yourself. Splurge on an art class at Ojai Valley Inn's storied Artist Cottage, or get up close and personal with local artist Bernadette DiPietro at the Working Artists Gallery. DiPietro offers workshops in batik and the ancient art of Ukranian egg decoration (who knew?). On the day I visited, she was teaching a class in making decorative paper—think a hybrid between tie-dye and origami. We had a blast dipping and dyeing, and the final products looked great! (I used mine to make greeting cards, but they can also be used for wrapping paper, paper flowers, and more…very versatile.)
At the end of a long day, there's no better place to unwind than Meditation Mount. Situated on top of a tall hillside, the 32-acre sacred site offers one of the best views of the Ojai Valley. Take a contemplative walk through the International Garden of Peace (which features boulders engraved with principles like "Goodwill" and "Essential Divinity"), sit quietly and enjoy the vivid sunset, or join a group meditation or yoga class.

With so much nourishment for the mind and soul, you'd better believe there's plenty for the body, too. We spent a wonderful evening at the charming Azu, a restaurant that specializes in Mediterranean cuisine and Spanish tapas. Seafood paella is one of their specialties, and it can be made vegan on request. The local ethos is in full force here, especially thanks to the brand-new wine tasting room in partnership with local winemakers Ojai Alisal. You can also sip on Ventura-made Wilder Gin or sample from seven California draft beers on tap.
In keeping with the artsy nature of Ojai, many of the hotels offer packages to help create a seamless art appreciation experience. We stayed at the Su Nido Inn, which offers an "Art and Wine of Ojai" package. Included is a two-night stay at the hotel (which is conveniently located in downtown Ojai), a guided walking tour of Ojai's art galleries, and 11 wine selections from two different tasting rooms. At the end of the day, curl up by the fireplace in your one-bedroom suite or enjoy some more wine (why not?) in the inn's pretty Mexican-tiled courtyard.
One of the things that struck me most about Ojai is the way everyone seems to know everyone else. All of the local artists and entrepreneurs really support each other, and it's inspiring to see. Another thing that kept coming to mind was an old TV show called "Radical Sabbatical," on which corporate types chucked it all to follow their dreams and pursue fulfillment. Those were the types of stories I kept hearing from people who'd chosen to live in Ojai—from one PR rep who wanted a change from the fast-paced LA lifestyle to the Ojai Alisal winemakers (two LA-based doctors who bought a house and followed their dream of starting a vineyard). I can see why they chose Ojai: it's definitely a place where great expectations and great taste meet.
Though I'm not quite ready to follow in their footsteps and leave Los Angeles just yet, I definitely want to visit this lovey town again and again. After all, there's still so many other things to do in Ojai: from the outdoor bookstore Bart's Books to the new mid-century modern Capri Hotel and more. Can't wait until I can say this words again: "Oh hi, Ojai!"
____
Jen Jones Donatelli is an LA-based freelance writer who specializes in travel, dining, and lifestyle content. Her work has appeared in a wide range of publications, including Redbook, Playboy, LA Confidential, San Francisco, Variety, Natural Health, and many more; her photography has been published in the LA Times and Conde Nast Traveler. Though her travel bucket list is long, the short list includes Australia/New Zealand, Greece, Spain, Turkey, and Costa Rica. (Next stop: Asia!)