It's that time of year for Passports with Purpose! With this global fundraiser, travel bloggers from around the world pitch in to raise thousands of dollars for a worthy charity.
Here's a brief rundown of all the funds the nonprofit Passports with Purpose has raised in the past seven years:
2008: $7,000 for Heifer International
2009: $30,000 to build a school in Cambodia
2010: $65,000 for an entire village in India
2011: $90,000 to build two libraries in Zambia, Africa
2012: $110,000 to support Water.org, which funded community wells in Haiti, providing much-needed clean water.
2013: $84,000 for buildOn to construct three schools and fund three adult literacy programs in the Sikasso region of southern Mali, Africa.
2014: $25,000 for Sustainable Harvest International so five families could learn to farm in Honduras over five years.
This year's goal: As much money as possible for Worldreader to supply digital reading to five libraries in western Kenya. The e-readers will provide an estimated 6,250 children, teachers and parents with access to more than 50,000 books.
The cool part of Passports with Purpose is that most of the money raised comes in just $10 increments. For just $10 (or more!), you can help, perhaps even winning some nifty prizes along the way.
Here's how it works: Visit the Donate page to give via PayPal in $10 increments. Then, check out all of the cool prizes listed on the Passports with Purpose prize catalog, and you can make your prize selection depending on how much you donated (give $100, get 10 chances to win). There are some amazing items that you might win, and your donation is tax-deductible. If you prefer to donate to Passports with Purpose without entering to win a prize, you can certainly do that, too.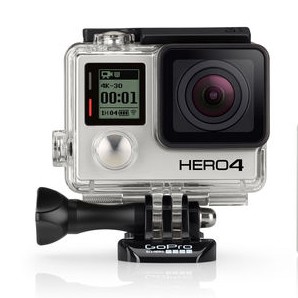 Since 2009, when Jen, Beth and I founded The Vacation Gals, we've hosted a prize for Passports with Purpose, and this year is no exception. In 2015, we are pleased to provide a HERO4 Black Ultra HD Waterproof Camera worth $500, thanks to the generous folks at GoPro.
I've long been a fan of GoPro cameras, having used one since they were first introduced (check out some snorkeling with whales and water slide video I've posted here at The Vacation Gals over the years). More recently, I brought  the GoPro HERO4 Session on a local kayaking adventure with my family. And most recently, I used the HERO4 Black (the same model we have up for grabs in this Pasports with Purpose prize raffle) on a trip filled with outdoor adventure in the Dominican Republic. Here's a fun shot of me taken with the HERO4 Black on a wrist mount while ziplining at Bavaro Adventure Park in Punta Cana, DR:
We're so grateful to GoPro for donating this awesome prize to benefit Passports with Purpose. (Please note, the winner of our prize must have a mailing address in the U.S.)
We hope you'll scoot right over to the Passports with Purpose prize catalog and have fun perusing all of the prizes — then enter to win for just $10 a chance.
Remember, 100 percent of donations, exclusive of PayPal fees, will go to Worldreader. And little bit will help students in Kenya gain access to digital e-readers containing both English and Swahili fiction and non-fiction for all ages, as well as Kenyan textbooks. What an amazing resource for enhancing literacy for so many students!
A huge shout-out to TBEX for the it's sponsorship of Passports with Purpose this year.
And thank YOU for your support of The Vacation Gals and Passports with Purpose.
Bottom photo courtesy Worldreader.