The Roman Coliseum is one of the most popular travel attractions in Rome, if not all of Italy. While most people have at least a general idea of its importance in world history (um, that Gladiator movie, right?), battling the hordes of tourists to stare in wonderment at the ruins isn't as meaningful as it is with a guided tour. A private guided tour led by a thoroughly knowledgeable guide lets travelers gain detailed knowledge about the Coliseum in Rome, and also, a skilled tour guide working with the right company lets tourists cut into the head of the theme-park-like long line. We were lucky alright; our Kensington Tours guide was fluent in English, adept at maneuvering through the crowds, and patient with our children.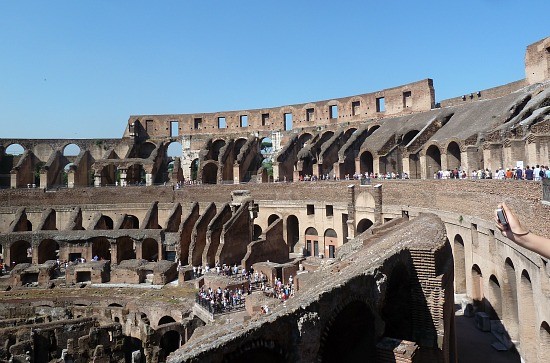 Our summer vacation in Italy included 5 days in Rome. One of these days was a highlight of an already incredible travel experience. Our one-day Kensington Tours private tour guide, Ernesto, took us on an "Ancient Rome Tour," starting at the Roman Coliseum, going slowly through Palatine Hill and the Forum, and ending at the Jewish ghetto. Rather than having distinct stops, the sense was more of an interconnected flow; the Coliseum leads to the ancient Roman road, leading through the Forum (and past where Caesar was assassinated), to the ancient yet still vibrant Jewish ghetto by the Tiber.
Rome is practically littered with artifacts and ruins; even its most modern and cosmopolitan areas brush up constantly against history. Ernesto made this clear to our kids in a way that my husband and I couldn't — what 12-year old listens to her mother, after all? — and tied ancient and modern Rome together organically and beautifully for our family.
Our Kensington Private Guided Tours guide described the Coliseum gates' numbers as indicators of where Romans would know to enter to get to their seats. With five levels in all, the nosebleed seats reminded my kids of the cheap tickets we've sometimes gotten at the Hollywood Bowl. Of course, back then the plebeians had to actually be lifted up with a rope and pulley system; such was the importance of this central activity of ancient Romans. The patricians, naturally, got better seats. The best seats were saved for the Emperor and the Vestal Virgins. Ernesto explained that regular theaters had dramas and comedies, whereas the Coliseum, an amphitheater, was reserved for the violent fights we've seen in movies.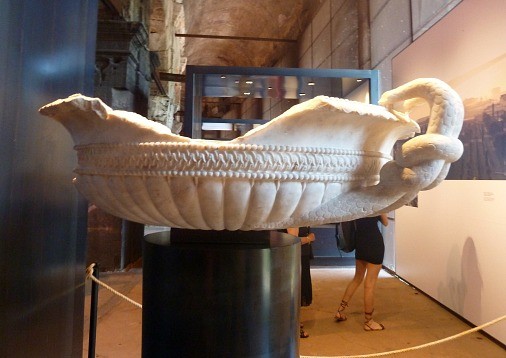 Even the Roman Coliseum, as old as it is, is just a point in time in the ancient city of Rome. Our guide told us how it was built on the former site of Nero's Golden Palace. Today, there's a display of what remains of Nero's treasures. What remains are few, sadly; Nero, commonly known for "fiddling while Rome burned," was actually a victim of propaganda — I had no idea. He was an aesthete who worked towards building up Rome's cultural legacy and trade system. Nero sponsored the first expedition, for example, to discover the source of the Nile River. Nero committed suicide in the year 68; This is one detail that's not in doubt. While my kids hadn't heard of Nero before, my husband and I had,. However, this was the first we'd heard that he may be a misunderstood victim of ancient Roman propaganda!
From the Coliseum we went to the Forum Romano — the Forum was once a downtown-like area with shops, banks and commerce, and not that many residences. To get to the Forum from the Coliseum, Ernesto led us through Palatine Hill. This is where Caesar himself lived — very exciting for my older daughter, who had learned Marc Antony's famous speech ("I come to bury Caesar, not to praise him") in her 6th grade Latin history class.  She perked up — it was a very hot summer day — and really appreciated nosing around Caesar's tomb. Ernesto was adept at finding what particularly interested my family and talking more at length about those topics.
Meandering slowly through the Forum, pointing to various ruins and columns and asking Ernesto about them, was a delight. He knew something interesting about everything we pointed to. I can't imagine going to the Roman Forum without such a valuable
guide; the experience was so much richer and detailed because of Ernesto. For example: The Temple of Vesta, in the Forum. My daughters were fascinated to learn that girls were held in so little regard in ancient Rome that most were called Julia. The Vestal Virgins, though, were held in the highest regard, maintaining the Holy fire as a gift from God. They lived on Palatine Hill, and had some of the best lives women could have in ancient Rome. My daughters, who currently want to be a scientist and a veterinarian, were able to get an idea of how far their gender has come since the year 78 or so. I imagine that our Kensington Tours guide spent more time talking about the aspects of the daily lives of girls and women in ancient Rome than he would have otherwise, due to my daughters' interest.
Our guide let us take as long as we wanted to explore the Roman Coliseum, Palatine Hill, and the Forum. We ended the tour with a walk through the (very small) Jewish ghetto by the Tiber, and then Ernesto pointed us towards a favorite restaurant of his, where we had spectacular fig and prosciutto pizza. The one-day tour of highlights of ancient Rome was one of the most culturally and historically enriching days of our lives. And yes; it ended on a most delicious note, as well.
Kensington Tours runs private guided travel all over the world. If all the guides on Kensington's list are as skilled and friendly as Ernesto, this company is a fantastic choice for educated travelers worldwide.
We received a free tour from Kensington Tours while in Rome. However, our private guide had no idea of this, and we tipped him very well.