There are lots of lodging options in Moab, Utah which appeal to adventurous folk spending time in the nearby US National Parks. Meant for relaxing after a day of outdoor adventure, the classic lodge should have true Western sensibilities. Red Cliffs Lodge is the best place to stay in Moab, Utah, for travelers who want to add luxury to their National Park or outdoor adventure vacation.
Moab, Utah is an adventure traveler's dream come true. Arches National Park, with its gorgeous, otherworldly red rock arches, buttes and other formations, are as beautiful as anywhere in Sedona. ATV off-roaders get plenty of action here, as do mountain bikers, hikers and rappellers. The Colorado River winds its way through Moab, of course, so kayaking and white water rafting is always a fun outdoors option. But when all this appreciation of Moab's natural wonders is done, a traveler may want to rest his bones in a high-end ranch hotel (rather than pitching a tent). In terms of kicking it up a notch, lodging-wise, Red Cliffs Lodge is the best place to stay in Moab, Utah.
Make no mistake, Red Cliffs Lodge is the real deal: the hotel is genuine Western, through and through. There are cowboys around, and rifles, and some taxidermied animals are part of the decor. But there's also a small vineyard and winery (the Castle Creek Winery) right on the property, and the on site Cowboy Grill serves as good a meal as a southwestern tourist will find. The accommodations are the best in Utah for a luxury vacation, genuine Western-style. Sure, competitor Sorrel River Ranch Resort gets plenty of attention, but Red Cliffs Lodge has a way of sticking with you; some of our best memories from a Utah National Parks and Colorado River tubing trip are of our stay at the Red Cliffs Lodge.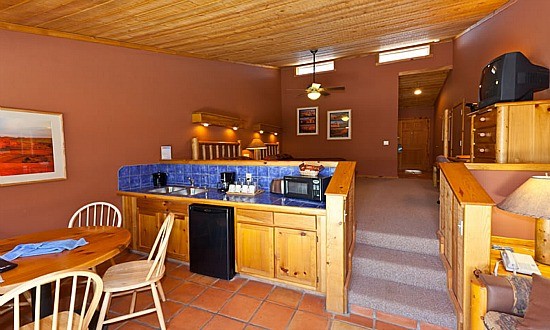 Red Cliffs Lodge Accommodations
The Red Cliffs Lodge has mini-suites, full suites, and cabins, all of which have drop-dead gorgeous views of the Colorado River winding through the back of the hotel property. Horses graze in the rooms' "backyard" periodically, adding to the bucolic vista. Every room is at least a suite, and the bedding is as comfortable and soft as any 5-star resort's. There are full kitchenettes in each room here, along with a dining area and patio leading outside. The full suites include a separate living room, a master suite and second full bedroom with bath, and a full 1,600 patio with furniture for outside dining. This part of the ranch has better views of the part of the Colorado River that has rapids. The deluxe cabins are detached from the rest of the Red Cliffs Lodge, giving guests more privacy. The two bedroom cabins have the same kitchenette and dining area as the smaller accommodations, with a private jacuzzi, some Bath & Body products, and other romantic touches to make them the best option for honeymooners and guests seeking an outdoorsy romantic getaway.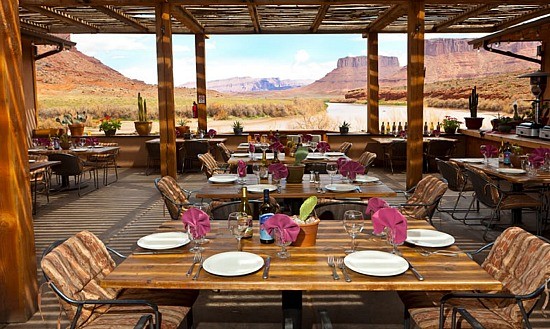 Red Cliffs Lodge Restaurant
We had a great time at The Cowboy Grill. There is nothing fake or touristy about the setting and decor, and wine from the lodge's own Castle Creek Winery are served (along with other options). Traditional Western meals are served here – this means large portions of prime rib, ranch fried steak, wild-caught Keta salmon, and plenty of hearty sides. The elk, when in season, is prepared perfectly. After a day of white-water rafting or hiking around Canyonlands National Park, guests get a serious appetite – making The Cowboy Grill perfect for the mood.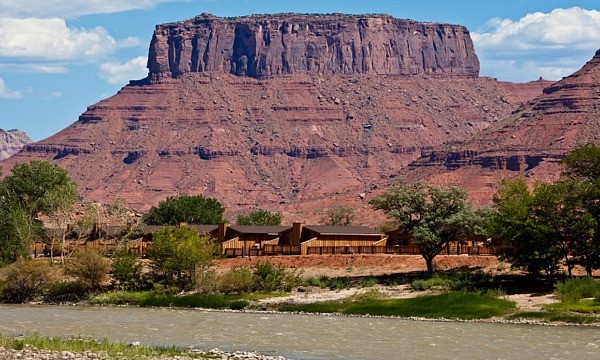 As the sun sets, the red cliffs of Moab, Utah seem to glow like red embers; this view, plus the authentic food and the wine add up to a very memorable experience. There are many ways to have a great vacation in Moab, Utah. The Red Cliffs Lodge is any traveler's best bet for adding a bit of a luxury hotel experience to an outdoor adventure trip.