Packing warm-weather clothes for a summer trip is infinitely easier for me than packing for winter travel in cold-weather climes. Those bulky items like boots and the long, chunky sweaters I love make it difficult to fit a vacation wardrobe in a carry-on, for sure!
Still, Royal Robbins makes some nice, travel-friendly wintry pieces that I know I'll get some good use out of on my upcoming Viking cruise of the Mediterranean (6 ports in 6 days!), as well as road trips closer to home. I've already worn each of these pieces to school and work meetings, and I look forward to traveling with them, for sure!
Herringbone Discovery Strider Pant ($75): I love that these pants are as comfy as yoga pants, but are much more tailored and presentable for meetings, sightseeing or a dinner out. I wish they were a touch longer so I could wear them with heeled boots (these clogs I paired them in the above photo are pushing the 32-inch inseam — they look really good with my Cocorose flats). As a tall girl, I struggle with too-short pants a lot, so this isn't unusual, but I think these would be even better pants if they came in a tall option! The nylon/polyester/spandex blend dries quickly and the material is wrinkle resistant — great for travel!
Mission Knit 1/4 Zip ($65): I fell in love with this slim-fitting, quarter-zip base layer immediately — and wore it for two days straight! Great for sporty endeavors, it is made from a blend of acrylic and rayon with a touch of wool. It's incredibly soft! Alas, this top shrunk a bit after I washed it and dried it. (So sad. It fit perfectly before I tossed it in the dryer; washing instructions said that was AOK, but I should have let it air dry.) Still, I can wear this comfortable base layer for yoga or for hiking or casual days of travel if I wear a very slim-fitting T-shirt underneath it! And it pairs nicely with the Rosa fleece as shown in the photo of me above. (Next time, I'll order a Mission Knit 1/4 Zip a size bigger or not put it in the clothes dryer!)
Fleece Rosa Jacket ($66.50 on sale): This comfortable fleece jacket is thick and warm and incredibly soft. You can see in the photo of me wearing it above that the "Bordeaux" colored fleece I have is lined in pink. Surprising and cute! It might be difficult to see in the photos, but it also has a pretty flowery stitching that gives it a bit of texture. I can definitely see myself packing this jacket on road trips this winter and wearing on the sidelines of track meets this spring!
Sophia Cowl Neck ($70): Cowl neck sweaters are not something I typically gravitate to, but I really like how this one fits — nice and slim with extra-long sleeves. The scalloped edging on the loose neck, hem and sleeves is feminine and pretty. The polyester-acrylic blend looks like wool, but it's soft, and I can wear the sweater alone or with a layer underneath it for extra warmth (though the sweater is quite warm as is). It is machine washable, lay flat to dry.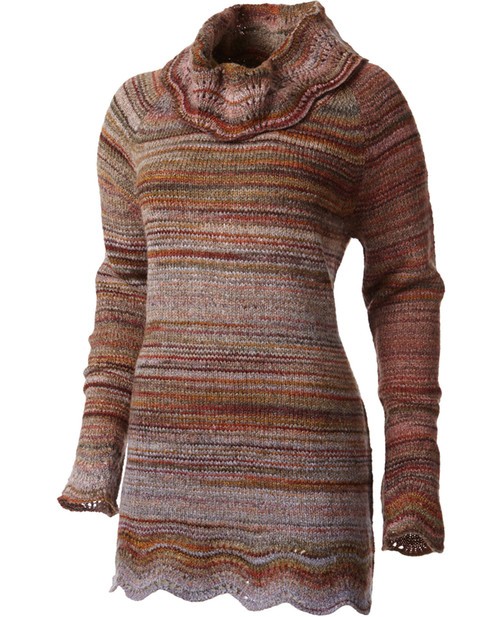 Ponte Patterned Skirt ($65): This skirt is totally me. I love the just-above-the-knee length and the bit of flounce. It's girly and flirty, but still classy. The fun pattern reminds me of fall leaves, which is perfect for cool weather, and the material isn't too heavy, but it keeps my legs warm, for sure. The polyester, rayon, spandex blend is wrinkle-resistant and has a little tiny interior pocket to fit a lip balm and hotel key if needed. It has just enough stretch to make this pull-on skirt very comfortable, too. I love pairing it with tights and tall boots!
Mission Knit Long Sleeve ($45.50): This sporty shirt has a much looser fit than its Mission Knit 1/4 Zip counterpart described above. I've been wearing it as a workout top, over a tank top and now under a sweatshirt in chillier temperatures. It's described as "hip-skimming tunic" length, but I like my tunics to hang down over my butt if I'm going to pair them with leggings and boots out in public (i.e. restaurants, not the gym). It might work with jeans, but I tend to wear this top with my trusty yoga pants. I definitely like this comfortable material — acrylic, rayon wool — and its quick-dry qualities, so this piece will get packed for workouts and active days on the road.
Royal Robbins provided me with these items of clothing for review purposes.