We've all heard about the notorious 1692 Salem Witch Trials. The intrigue of these long-ago events turned this small Massachusetts town into a tourist attraction where witch decals are displayed on windows and car bumpers, tour guides lead groups around town pointing out historic landmarks, psychics are everywhere and willing to predict your future, and gift shops shelves are lined with potions and books filled with witches spells.
Salem had been on my to-do list for many years. This past fall my crew had a 20-hour layover in Boston and luckily our hotel was only a few blocks from a train stop. We handed over $5, then 20 minutes later we arrived in Salem. This Boston suburb keeps its witch-themed ambiance year-round, but the month of October Salem especially taps into its heritage with its Haunted Happenings celebration which consists of  parades, costume balls, haunted houses, town tours and witches everywhere you look.
We couldn't have visited on a more glorious day. The weather was crisp and the tree leaves were the vibrant oranges, reds and yellows you always think about when dreaming of  autumn.
Our goal was to not spend a lot of money so we started our morning off with a stop at Dunkin' Donuts (that was my first job in high school, by the way). I ordered a Boston Scream (notice the name chance to match the season).  These popular donut shops are found on every corner on the East Coast as well as sprinkled throughout the United States, though I have yet to find one in Minnesota.
The rest of the day we roamed the town stopping into witch-themed gift shops that were filled with herbs, oils, incense, books and the traditional tourist souvenirs.
One of the most popular photo ops is the statue of Roger Conant, the founder of Salem, which was erected in front of the Salem Witch Museum.
Another popular statue is the one honoring author Nathaniel Hawthorn. His family was from Salem and had connections to the Salem Witch Trials.
As we roamed the cobblestone streets, admiring the historic landmarks, humorous bumper stickers, and costumed dogs we also ran into a few witches.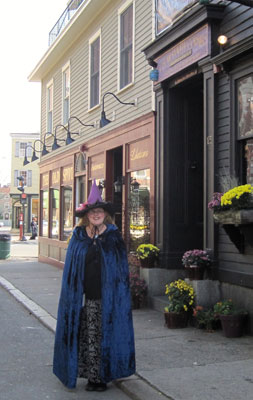 We passed on the many tours that were offered – but we did meander into The Burying Point, "The Oldest Burying Ground in  the City of Salem". It was a pretty graveyard with mature trees and fading inscriptions.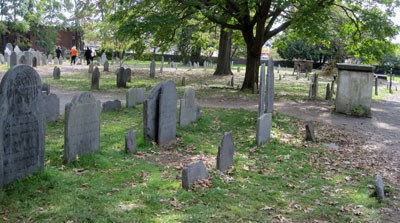 After our self-guided town tour we agreed it was time to find some lunch. We ended up at the waterside restaurant of Victoria Station to sit on the patio with a pretty view.
And… a delicious bowl of clam chowder.
After a stop at the coffee shop we headed back to our hotel pleased with our day. We agreed it was one o f the best layovers we had ever experienced. The $5 train ride, $3 at Dunkin' Donuts, an $8 lunch and a two-buck coffee at Starbucks made for an affordable day in Salem – all for about $18. We saw historic  landmarks, pretty scenery, took some fun photos and crossed the destination off our list. It doesn't matter where you go…you can always find a way to experience a place without spending a lot of cash, even Salem. The best part, you don't even need a magic potion.