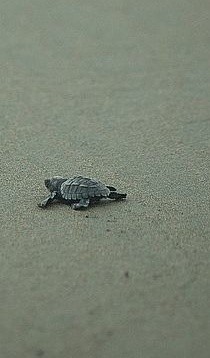 Saving endangered sea turtles in Costa Rica is at the top of many people's volunteer vacation bucket lists. Small wonder why; the first journey of just-hatched baby sea turtles, struggling to get to the relative safety of the ocean, is fraught with hazards. It's a sight familiar to fans of nature documentaries, but seen less often with our own eyes. Birds and land mammals swoop down on the baby turtles, reducing by as much as 80% the number of sea turtles that make it through their first day alive. Nesting sea turtles and their clutches in Costa Rica are often in danger, not just from natural predators but from human poachers who can get a dollar an egg on the black market.
Our last volunteer vacation service in Costa Rica was at Playa Matapalo, a quiet beach. Not popular with tourists, Playa Matapalo is popular with nesting sea turtles.  The AVSO sea turtle hatchery project here is volunteer-run: we met volunteers from Costa Rica and Guatamala, Germany and Sweden. Volunteering at a sea turtle hatchery project with easy public access is a 24-hour a day activity, to protect the
relocated eggs from nocturnal predators and poachers alike.
We spent the day of Christmas Eve there. While we were at AVSO, a man who lived around a third of a mile from the sea turtle hatchery project told the group that he'd just paid a poacher off to leave a fresh nest of sea turtle eggs in peace. We hurried with other volunteers to the site.
Relocating sea turtle eggs is a bit of tricky business: They should ideally be moved within two days of being laid, and carefully, without too much movement. Otherwise, the embryo inside can separate from the inside of the shell. Too much jiggling, in other words, and the egg will die. A seasoned volunteer dug up the sea turtle eggs.
After we returned to the sea turtle hatchery, my mother and I were allowed to carefully move the eggs to their new nesting area. They develop naturally under two or so feet of sand; I spent the next hour placing the eggs, one by one, into their allotted space. The eggs were approximately the size of ping pong balls, and softer than bird eggs. I was careful to layer the eggs in, so that they wouldn't roll around much. My mom took over and together, we transplanted over 120 eggs.
Meanwhile, another volunteer discovered a baby sea turtle in the space where his brothers and sisters had hatched the night before. My father took photographs of this lollygagger as it was permitted to make its way to the ocean unharmed. This was a bit of good timing for my photo-loving dad, because sea turtles more often hatch at night. He wouldn't have been able to use the flash on his camera to take pictures at night: Baby sea turtles get disoriented by white light, as they follow the dim light of the horizon over the water to head towards the ocean. I
think this day was a highlight of his Costa Rica service trip; his photographs of this baby Olive Ridley sea turtle are terrific.
After transplanting the eggs into the safety of the sea turtle conservation and hatchery project, my parents and I rejoined the rest of my family on the beach. My daughters and husband missed this low-key adventure, because they knew they'd join us for an evening shift at the sea turtle hatchery. We have a video (don't worry, it's short!) of our night at the sea turtle hatchery protection project. Because we volunteered during the first night shift (6:00PM to 9:00PM), we first enjoyed the sunset, then sat in darkness. Along with a couple other volunteers at the AVSO sea turtle hatchery project, we looked at the stars, talked quietly, and listened to the waves lapping at the shore a hundred yards away. Quiet time regrouping with my family, outside, on a starlit beach: Not a bad way to spend a Christmas Eve in Costa Rica.