The recently redesigned Shore Hotel in Santa Monica may indeed be a state-of-the-art, award-winning, glamorous modern hotel designed to LEED Standards. It may in fact be perched in one of the most popular destinations in the world, across the street from the Pacific Ocean with views of the world famous Santa Monica Pier, a quick walk from 3rd Street Promenade's restaurants, movies and shopping. And yes, the Shore Hotel in Santa Monica may be designed to attract visitors from around the world to the shores of the Pacific, to enter its glass walled lobby and receive a welcoming glass of champagne from genuinely friendly staff. But it was the swimming pool and Jacuzzi hidden tantalizingly behind frosted glass walls from the scene on Ocean Avenue that captured my sons' attention one day as we walked past, on our way to the Promenade for an afternoon movie.
"Can we stay there some time?" they gushed, eyes bugging out. Let's be clear: we live five minutes from this hotel. When would we ever need to stay there? That practical fact didn't bother my magical thinkers. They had their hearts set on jumping into that pool, surrounded by sleek orange chaise lounges, fluffy white towels, and fiery heating lamps.
I couldn't deny it; the Shore Hotel in Santa Monica had temptation written all over it. So, as a surprise for our older son's birthday, we booked a room for one night in February, and hoped the Southern California sunshine would remember to break through our occasional cloudy Southern California winter days so we could enjoy that pool.
Entering the lobby, my embarrassment at the extravagance of staying at a hotel so close to home was quickly erased by the elegant modern ambience. I could get used to this. My husband and I graciously accepted our champagne. Our kids didn't notice that they weren't offered a beverage because they were already interfacing with the giant touch-screen offering tourist assistance.
Up on the third floor on the Shore Hotel in Santa Monica, we took stock of our room: two queen beds, flat-screen TV, balcony overlooking the pool and ocean, and, most intriguing to our eight-year-old boy, a glass-walled bathroom with retracting privacy screen. Up and down he moved it until it became impressed upon him by his older brother that such behavior would not go unpunished.
A night swim quickly changed the subject. It was cool, so I decided to keep them company from the comfort of a chaise lounge and a warm sweater. Before we headed downstairs, I opened the closet hoping to find a robe to hang on my kids' frames, and was rewarded with two of the softest robes I've felt in a long while. Our younger son proclaimed his newfound love of robes, then insisted on keeping his upstairs where it would remain dry: he planned to sleep in it.
We had the pool and Jacuzzi to ourselves that night. But it felt like we were at a cool Hollywood party because of the sounds of the lively Blue Plate Taco restaurant just beyond the glass wall. The restaurant, cousin to Blue Plate Oysterette up the street, and Blue Plate on Montana Avenue, is affiliated with the Shore Hotel in Santa Monica and is open for lunch and dinner.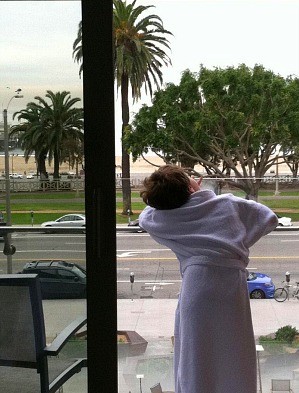 The only complaints expressed by my princes? No room service and no breakfast. Quelle horreur! Our older son was so comfortable in bed the next morning, he couldn't bear to leave the premises. As a newly-minted 12-year-old, we felt comfortable leaving him there while the rest of us strolled over to the Saturday Farmer's Market. We picked up chocolate croissants from The Bread Man, blueberries, raspberries and coffee. What more could we want?
Well, for the kids, just one other thing – the chilled water poolside was infused with cucumbers. Take the vegetable out, replace with lemonade, and it was the perfect birthday indulgence. Four thumbs up for the Shore Hotel in Santa Monica.
The Shore Hotel in Santa Monica, California provided guest author Laura Diamond with a complimentary stay for purposes of this review. Laura Diamond is the editor of Deliver Me: True Confessions of Motherhood. She writes about family, travel and more on her blog www.lauradiamond.wordpress.com.