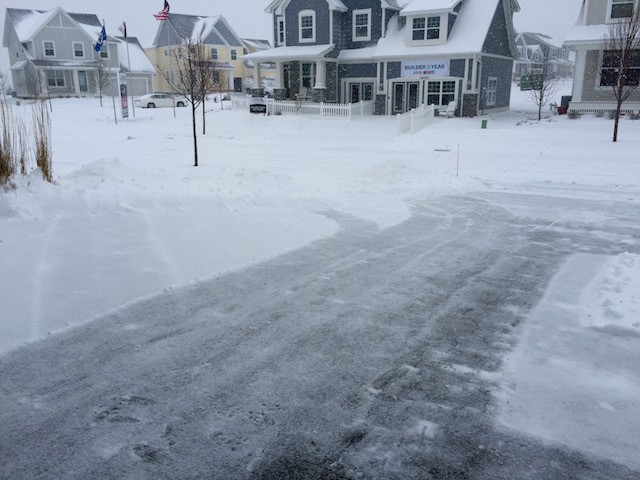 Now that everyone is done digging out of the massive snowstorms these last couple weeks, let's answer a question that has been floating around the internet lately: Should women shovel snow? I've observed people offering their opinion on the subject, and in some cases the conversation escalated quickly and got rather heated.
Let me share my personal experience. When I first moved to Minnesota in 2009 there was no way I was going to grab a snow shovel and get to work. It was way too cold, I had two young children to care for, plus I had no idea how to shovel property (lame, right?). Luckily, I'm married to a sweetheart. My husband simply took on the task without any discussion. He's great like that. Minnesota wasn't my first encounter with snow. When I was younger I lived in Colorado and never shoveled snow in any fashion, besides kicking it off my boots, because I had three brothers who loved it. However, the topic of shoveling changed when my husband started traveling for work for a few years ago.
Personally, I had a change in attitude and asked, why not? I even learned how to run a snowblower – talk about fun! Today, I don't just tolerate shoveling. I actually look forward to doing it (hello Fitbit steps). This week it dumped nearly a foot of snow here in Minnesota. With wind thrashing I pushed and shoveled snow before my husband got home from work and it reminded me how I used to flinch at the thought of snow shoveling and being out in the cold. I laughed. There's something refreshing about being outside in the winter and it's really the only time you see your neighbors – at least up here. (It's kind of like Arizona in the summers.)
My advice to ladies unsure about snow shoveling: Try it! (Keep reading for tips.)
There is another question I'd like to address: Should pregnant women shovel snow? In my opinion, no. My biggest concern, having been pregnant in recent years, is falling. Women are already prone to falling due to imbalance of pregnancy and a slip on ice can seriously hurt mom and baby. Hey, slipping on ice hurts even when you're not pregnant. As for the labor part, shoveling snow is hard work. The lifting can be very hard on the body, especially if it's the wet heavy snow. Let's just say they call it "heart attack snow" for a reason. Yes, people really do die shoveling.
With that said, many ladies stay in top-notch shape while pregnant and can physically handle the physical exertion of light shoveling. Every circumstance is different, as are sidewalks and driveway lengths, amount of snowfall, and the health of each mother. Of course, I'm not a doctor or medical professional of any sort, but as an experienced mom who has birthed three babies, I certainly don't recommend it under extreme circumstances. I DO suggest you talk to your doctor before planning any type of physical activity, especially something as strenuous as snow shoveling.
Other reasons ladies – or anyone for that matter – should skip this winter exertion are hurt backs or other injuries, being out of shape, or any other medical issue, concern, or diagnoses, like heart-related concerns (past or present). If it's questionable, skip it.
Note: If you do have a traveling husband and young children I recommend hiring a local teenager or professional service to shovel for you. Actually, these are options for anyone. However, if you are up the task of shoveling, ladies, these are my tips before you venture outside:
Lose the "it's a man's job" mentality. Don't get me wrong. Chivalry is not dead. I am married to a gentleman and he always insists on shoveling when he's home or tells me to wait. The way I look at it is this: If ladies can run marathons, birth babies, and fight for our country, we can move a little snow (I had to have this self-talk with myself and it worked). And, yes, I'm trying to build your confidence. I know I'm not the first female to start shoveling snow in my late 30's. It's all in the attitude. Don't get me wrong, we don't have to do it all! I'm talking sharing responsibilities with our spouse and showing our daughters that we're not afraid to get our hands a little dirty (or cold). That also means letting the guys rock the baby to sleep and change diapers.
Don't overdress or overlayer. Shoveling snow is like working out and you can get sweaty. I suggest layering so that you can take off what you need as you warm up.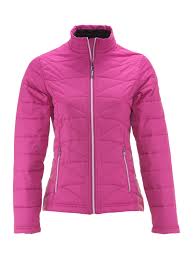 Wear an appropriate coat. I've been through many, many coats since moving to Minnesota. Right now, I have a couple of go-to coats depending upon the temperatures and my needs (hood, pockets, long or short). One of my favorite coats for shoveling is made by RefrigiWear, a 60-plus-year-old company in the commercial cold-weather gear space that has recently expanded to the consumer market. Being that Minnesota is king of wintertime activities, think ice-fishing, snowshoeing, skiing, snowmobiling and, well, obviously snow blowing and shoveling, this is the ideal market. Right now I'm loving (and I mean loving!) my Women's Quilted Jacket (in Plum). It's comfortable, light and keeps me warm. Oh, and the plum color and silver sateen reflective lining allows me to be seen in the snow-white background (thinking about those crazy snowplows and with their billowing snow flying down the road) both day and night. I appreciate the two front zipper pockets for my phone, tissues and lip balm while the full-zip stand-up collar protect my neck. Finally, the arms have a wind seal with inset thumbhole cuffs so the sleeves stay down the entire time. See why I love it?
Cover your ears. Grab your hat, earmuffs, headband or whatever you use to protect your ears and wear it proudly. 
Gloves. Even if it's "warm" (here in MN that can mean teens or twenties) don't skip the gloves because it's still cold and your hands can get blisters.
Boots with traction. I've always loved Sorels and can't imagine shoveling in anything else (like my Uggs). The key is making sure your boots are waterproof and skid-proof (again, beware of slipping). If you have patches of ice, grab the ice melting salt.
Protect your skin. Dry hands and skin is one of my biggest winter annoyances, especially after being outside in the frigid temps, but I've found Earth's Care's Dry & Cracked Skin Balm to be my saving grace in this area. I was purchasing too many different types of lotions until I received a sample of this lovely balm. Ingredients include Shea Butter, Sweet Almond Oil and Arnica montana (arnica) flower extract. I've been using it as soon as I come inside and my hands are happy!
Use your legs when lifting. Seriously, do NOT use your back. It's all in the lift of the legs, squat style. If you're not used to working out, expect to feel it the next day in your arms, shoulders and legs but it's a great workout. Again, use your legs. There are plenty of videos on youtube on the topic of how to shovel and lift that I recommend watching. 
Hydrate. I'm always talking about drinking water and this same goes for working outside in the winter.
The right shovel. Finally, find a shovel that works for you and the type of snow you're shoveling. You may have to go to Home Depot to try a few out. We have several options but I have my one and only personal favorite.
Pin for Later!
Thank you to RefrigiWear and Earth's Care for the samples to help my outdoor snow shoveling efforts.