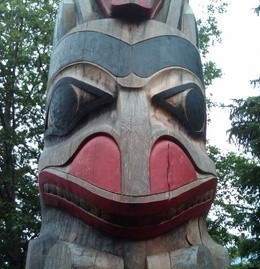 Travelers to southeast Alaska may wonder about what there is to see and do in Sitka. Sitka is the fourth most populous city in Alaska, with interesting travel activities, but it's really more of a maritime town. Now, Alaska is a huge state; three Californias could easily fit in its boundaries. Not many people opt for vacations in the North Pole; most Alaskan tourism takes place, at least for part of the trips, in southeastern Alaska's Inside Passage. Sitka is a recommended travel destination in this part of Alaska, due to its moderate year-round temperatures, location surrounded on three sides by Tongass National Forest — the largest temperate rain forest in the world — and its living testament to the hardiness of us humans.  Southeast Alaska native peoples (mainly Tlingit and Haida), Russians, and pioneering Americans all have long and sometimes difficult histories in Sitka and the Alaskan Inside Passage.
The National Trust for Historic Destinations named Sitka as one of its "Dozen Distinctive Destinations" in 2010. It's the first and only place in Alaska to receive this historic destinations moniker. This award is richly deserved; Sitka is notable for for offering travelers an "authentic visitor experience by combining…cultural landscapes and a strong commitment to historic preservation, sustainability and revitalization." (National Trust for Historic Destinations, 2010.) The vast majority of tourism to Sitka comes from cruise ships, and unfortunately most cruise lines abandoned Sitka after the head tax  — price per passenger disembarking — was raised.  This may change again, but it's a shame that the large cruise lines can show such a lack of commitment to the very destinations to which they set sail.
Sitka will survive, of course — it's seen worse. Travelers to this island in southeast Alaska's inner passage can find several sights and activities that provide the authentic Alaskan travel experience that led to its recognition by the National Trust for Historic Destinations. Here are six especially recommended Sitka, Alaska travel activities.
Castle Hill – Castle Hill marks the spot where, in 1867, a ceremony marked the transfer of Alaska from Russia to the United States. Castle Hill is one of Sitka's state parks. When Russians first started exploiting southeast Alaska's rich resources (mainly sea otter pelts), they lost a battle with the Tlingits, who had already lived here for centuries prior to the Russian's arrival. Later, the Tlingits recognized that they were outnumbered, and ceded Castle HIll to the Russians. When the Russians sold Alaska to the United States for 7.2 million dollars, the exchange was marked on Castle Hill. Today, visitors can stroll the grounds and read the plaques – and remember why this sale was once called "Seward's Folly."
Sheldon Jackson Museum – This is one of only two official Alaska State Museums. Sheldon Jackson was a
Presbyterian missionary to Alaska, but after spending some time in Sitka he recognized the importance of saving natural and cultural historic objects for the benefit of future generations. He was given many cultural items and artifacts from native peoples across the entire state of Alaska, from the Inupiat (us North Americans usually refer to them as Eskimos) along the bitter northern coast, to the Athabascans (whose descendants include Navajos and Apaches) who survived in the central tundra, to the Tlingit, Haida and Tsimishian native to the southeast Alaskan coast and Tongass National Forest. The collection was first housed in a 1890 building, but in 1895 the collection of artifacts had already grown so exponentially that Sheldon Jackson himself donated the funds to build a new structure. This museum, standing today, is one of the most complete collections of Alaska Native material culture in the world.
Sitka National Historical Park – This is the smallest park in the US National Parks system, and also the oldest
of the historical parks.  At just 106 acres, the relatively compact national historical is both peaceful (while being the only US National Historical Park set within a city) with a somewhat fierce history: in the 1800s, the Tlingits fought against the Russians and Aleut conscripts, battling to protect their homeland. They lost, but many totem poles remain on the parkland, tended to and protected against the ravages of severe Alaskan weather. Tourists and travelers can see wildlife like bald eagles, river otters, and occasionally a brown bear — though those are reclusive. Sitka National Historic Park has two distinct structures in it; the fort site (where the Tlingit won an early victory) and the Russian Bishop's House.  The park's Visitor Center and Sitka Cultural Center, on the fort site, focuses on Tlingit culture and has over 100,000 artifacts of Tlingit and Russian Colonial culture. The Russian Bishop's House, in the center of town, served as the residence for the sainted Russian Orthodox bishop in Sitka. It's one of only four Russian Colonial structures left in North America.
Alaska Raptor Center – Southeast Alaska has a large population of bald eagles, some of whom having an unfortunate propensity for flying into power lines. The Alaska Raptor Center takes in injured bald eagles and other
raptors — hawks, falcons, ospreys, owls, and kites, along with eagles, make up the six species of these birds of prey — and heal them. Those that can be independent are released to the wild, others are given permanent homes here to either live out quiet lives or be used as teaching birds. Many Sitka travelers tell people at the Alaska Raptor Center that seeing live bald eagles up close is the highlight of their vacation. It's Alaska's only full service bird hospital and educational facility, and as a nonprofit, it depends on visitor donations as well as its list of committed volunteers. After watching a short educational discussion with a staff member and a bald eagles, travelers can wander the grounds. The non-releasable raptors live outside in large, netted enclosures. Towards the back, there is a short walking trail through the rainforest along the Indian River here.
Downtown Sitka – Sitka is the only full-service community on the outer coast of southeast Alaska. The town is small, with a mix of charming shops and hardscrabble fishing supply stores that point to one of Sitka's main economic resources — the ocean. There are a few B&Bs and inns in Sitka, as well as an array of restaurants and fishing or wildlife viewing charter tours. One particular store worthy of mentioning is Old Harbor Books. This independent bookstore has a great selection of Alaska-themed books as well as bestsellers and lesser-known novels, and a cafe in the back (named, appropriately, the Backdoor Cafe). Fishermen's Eye displays and sells works solely created by Alaskan artists, which make for a better souvenir than the standard doodads at tourist gift shops.
Saint Michael's Cathedral – Because Sitka, and Alaska as a whole, was settled by Russians in the 1800's, a lot of Russian influence is seen in town. Saint Michael's Cathedral was originally a Russian Orthodox church, built in 1844-1848. It burnt down in the winter of 1966, but residents saved the icons and religious objects from destruction by creating a sort of reverse bucket brigade, passing the items out and down a line of volunteers. These relics date back to to 1500's and 1600's, and while small, are of incredible interest and cultural interest to the town's long history. The church itself was rebuilt as an exact replica of the original, but a lesson was learned; fire-resistant materials were used for the reconstruction!
There are other sights and activities of note in Sitka, Alaska. Travelers with children may want to take some time to investigate the Sitka Sound Science Center, a small aquarium with touch tanks that also participates in marine research. Adventurous travelers can hike up one or more of the rugged trails — remember, Tongass National Forest borders Sitka on three sides (with the fourth being the ocean). One relatively unchallenging trail is the Indian River Trail, around 5 miles long and mostly level. Cross Trail and Herring Cove Trail are considerably more challenging, with elevation changes and a bit of a slog through wet terrain. No matter what travelers choose to see and do in Sitka, it's a recommended destination on Alaska's southeast coast.