Santa Monica is a popular travel destination in Southern California, and for good reason.  In terms of dining, there's a little of something for everyone here, from the lowest of greasy spoons and sports bars, to great burger joints, to upscale restaurants that are on par with anything in greater Los Angeles. These formal, adult restaurants provide more than just dinner; they provide memorable dining experiences. Here are my recommended best upscale restaurants in Santa Monica, California.
Best Upscale Restaurants in Santa Monica
Melisse, 1104 Wilshire Blvd – This elegant restaurant is a pricey affair, and worth it. French food prepared to perfection, with expert sommeliers on hand, provide a sense of European dining. This is a 2-star Michelin, 4-star Mobil Travel Guide restaurant, and reservations are needed. When I've dined here, I left feeling as though I've had a genuinely valuable foodie experience – and I'm not the only one. Melisse has been a top-rated upscale restaurant in Los Angeles for over eight years, and Forbes Travel named it one of the "finest 5-star properties in the world" (2013).
The Lobster, 1602 Ocean Ave – It looks like it might be tacky or hokey, what with its location right on the Santa Monica Pier. But don't be deterred, as The Lobster has seafood as spectacular as its views of the Pacific Ocean and the beach. This is a great restaurant for people taking vacations in Los Angeles and Santa Monica, as it provides ample views of the locals rollerblading or haplessly trying to surf. The bustle here is notable during lunch, but at dinner, the setting is suitably romantic for a special adult meal. Try the classic lobster dinner, or the Dungeness Crab salad.

JiRaffe Restaurant, 502 Santa Monica Blvd – This is another classy restaurant, and it's a short walk from the Santa Monica Pier and the 3rd St. Promenade. It's one of my favorite restaurants in the entire Los Angeles area. Try the prix fixe menu on Mondays to get a little taste of many tasty items on the menu; this is a relatively affordable way to sample several terrific California French entrees. The blend of fresh, local ingredients with traditionally French cuisine is a creative take, and perfectly encapsulates the best of California's ability to make new what could otherwise remain Old Country-style cuisine.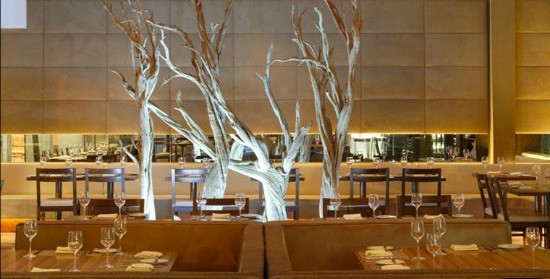 BOA Steakhouse, 101 Santa Monica Blvd – Observant readers may notice that steakhouses are my favorite type of restaurant. BOA is a great steakhouse in Santa Monica (there's one in West Hollywood, and Las Vegas, as well), with the casual yet formal flair that characterizes so much of California's overarching culture. Right on Santa Monica and Ocean Ave, BOA is across the street from the ocean, and outdoor seating is very, very popular.  The steaks and other entrees are as good as I've had. And it's not just me: Sunset Magazine called BOA Steakhouse steaks some of "the best in America."

Ivy at the Shore, 1541 Ocean Ave – The original Ivy is iconic; a classy, sophisticated restaurant where movie stars come to be seen. The Ivy at the Shore has the same high-quality food, albeit without the "star power." This is a good thing for a less pretentious, quiet American meal with a view. The interior is festooned with flowers — seriously, I've never seen so many flowers in a restaurant before in my life.
Chinois on Main, 2709 Main St – This is a classic. Chinois on Main was the first fusion restaurant, popularized by Wolfgang Puck. Here, Wolfgang Puck combines fresh, popular California cuisine with French style, and with some Chinese flair for the fusion style dining that many of us love so well.  Chinois on Main is a drive away from the tourist hub of the Santa Monica Pier and 3rd St Promenade. The Main Street area is more bohemian, and filled with local artists and strivers. Chinois is worth the trip, though; it's still a classy affair. It's hard to find good Chinese food in Los Angeles outside of Chinatown, and this is one of the best. The French-Chinese cuisine is an interesting twist on the standard fried rice platters. It's loud, though – consider yourself warned. This is a best fusion restaurant in Santa Monica, certainly, and the best Chinese food spot on the west side of Los Angeles. If it's a quiet, romantic meal you seek, however, try Melisse instead.


Valentino, 3115 Pico Blvd – Valentino is also a drive away from the most popular vacation area of Santa Monica. It's a very romantic Italian restaurant.  The classic Northern Italian dishes are amazing: this is no red-sauce-and-spaghetti joint. Valentino is elegance and stately, and obvious care goes into each entree. The wine list, wine matching, and sommelier are perfect for a romantic, adult meal. Valentino is highly recommended for a special occasion night out.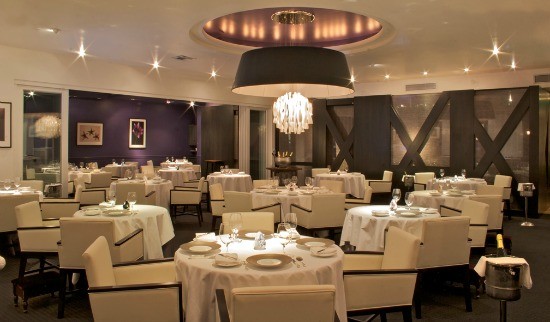 These are my picks for the best upscale restaurants in Santa Monica, California. Any one of these would provide a memorable night out for travelers visiting the Los Angeles area.