Today I want to share with you the how-to's of a great romantic getaway weekend at the St. Regis Monarch Beach Resort in Dana Point, California. Now, there're certainly no shortage of luxury hotels along the coast of Southern California; the sweeping views of the Pacific Ocean, along with warm sunny weather that's practically a guarantee, make this prime real estate for the luxury travel market. The St. Regis Monarch Beach Resort is a stand out, though.  It's one of the two best luxury hotels in the Dana Point area (the other being the adjacent Ritz-Carlton hotel). The St Regis Monarch Beach Resort's sheer extravagance cannot be overstated. This top-of-the-line Starwood property pampers its guests from start to finish. And, as I discovered recently, it makes a great resort for a weekend romantic getaway.
There's nothing subtle about the luxury at this resort. The St. Regis Monarch Beach is finely appointed with attention to detail, and the staff is both friendly and attentive (while remaining completely professional). Don't look for casual "chillaxing" guests in beat-up old jeans, either. It seems that even people who prefer to dress down take "resort casual" seriously here. This is pretty unusual for Southern California, by the way; remember that this is the part of the country where the rich and famous wear jeans to swanky Michelin-starred restaurants. The St Regis Monarch Beach Resort, in Dana Point, is definitely upper crust, yet the friendly atmosphere encouraged by the smiling staff and relaxed, happy guests ensure that it's still a comfortable place to stay.
The St Regis Monarch Beach Resort is built on a palisade, thus, the sweeping views of the California coast and Pacific Ocean are impressive — but there is no direct, easy beach access. Walking from the guest rooms, past the pools, past the golf course and under a little overpass to get to the beach may be off-putting to some. It's a large property, after all! Because of this, the St Regis supplies free shuttle service to and from the beach, beach club dining and to and from the golf course restaurant. It's about a five minute ride. We used the shuttle and were happy with it, however, it's important to keep in mind that there are other hotels near Laguna Beach that are actual beachfront properties.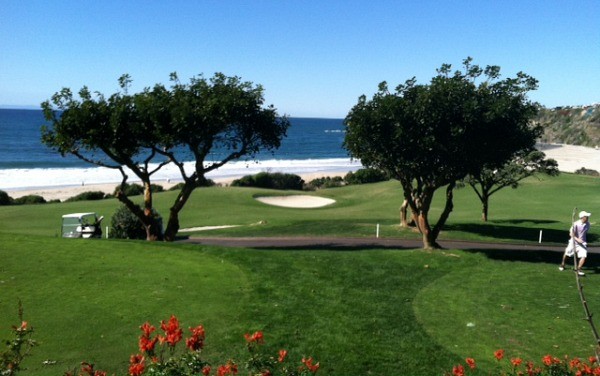 Rated one of the Top 25 Hotel Spas in the World by Travel & Leisure Magazine, this Forbes 5 Star resort resembles a spawning European villa. I saw guests with dogs, and families as well, but the romantic weekend getaway at the St Regis Monarch Beach Resort is one of the best in Southern California. Because I can find so little fault with my own romantic getaway at this resort, here's what I recommend for a couple seeking a luxury weekend of their own.
1. Request a pool-facing room, far from the lobby. The pool view is also the ocean view, and it's a majestic sight.
2. Make reservations, and have dinner at the property's Stonehill Tavern. It's only open for dinner, so the restaurant staff have all day to make each dinner special. The huge wine selection (around 500 varieties!) may seem intimidating at first, so don't hesitate to ask the sommelier for recommendations. A lot of the wine selections are California wines, keeping with the restaurant's philosophy of locally grown (seasonal) or purchased items. No jeans, please; this is an elegant restaurant with an elegant clientele to match. If it's a warm evening, request patio seating. The views of the ocean sunset are almost enough to distract you from your dining companion!
3. Lunch at Motif Restaurant, or even better, the Champagne Sunday Brunch at Motif Restaurant. Motif also serves breakfast. The cafe-style Motif is more casual than Stonehill, Try not to fill up on the fresh baked warm bread with butter and red pepper feta spread — the Maine lobster salad, Crab Louie, and other seafood items deserve to be savored.  The Brunch has a la carte and buffet options. Keep in mind that this is a high end restaurant at a top luxury hotel, so, prepare for the sticker shock.
4. Order in-room dining for breakfast. I usually avoid room service, but having breakfast delivered started the romantic getaway feel of the weekend perfectly. A white table cloth, lovely service ware, cloth napkins and pretty fast delivery are notable. It's very romantic to share breakfast, wearing robes and gazing out at the pool and ocean. Just remember to leave the room at some point of the day.
5. Walk to the beach, and along the beach. There are often dolphins cavorting offshore, and whales pass by during their migration seasons — but there are also, always, pelicans and other sea birds to admire. The St Regis Monarch Beach Resort shuttle can take you back to the main property in five minutes.
6. Wander the property itself. There is a botanical garden that changes with the season. This is a romantic weekend getaway we're talking about here, so don't be shy; hold hands and enjoy your stroll.
7. Definitely make an appointment at the Spa Gaucin. Remember, the St Regis Monarch Beach Resort is one of the top 25 spa hotels in the world, right? So you're going to want to see why for yourself. There are several spa treatments and signature services at the Spa Gaucin, but since this is a romantic getaway we're talking about, consider experiencing one of the two Couple's Retreats. Both are offered in a private spa suite (not just a large room). The Love Retreat include a 90-minute Wellness Massage and a 20-minute Chardonnay Bubble Bath — ahh. And the Life Retreat entails a 90-minute Wellness Deep Tissue Massage and a 20-minute Orange Blossom and Red Currant Bath.
Now, as I noted, there were plenty of happy-looking families on the property as well. However, the St. Regis Monarch Beach Resort is my newest pick for the best romantic weekend getaway luxury hotel in coastal Southern California. It'll be fun to try to be proven otherwise.
____________
Bonus! A Starwood Starpoints Giveaway: the prize is 60,000 Starpoints. Imagine the romantic weekend getaway you could have at a Starwood property, with 60,000 extra Starpoints to use. There are three ways to enter this giveaway.
1. Leave a comment below stating which Starwood property you'd like to have a romantic getaway vacation at. Let your imagination run wild; there are plenty of wonderful options. You may enter this way once a day.
2. Tweet The Vacation Gals and use the #SPGAMEX hashtag for another daily entry. The entry only counts if you tell me in another comment below. Tweet something similar to "I entered @TheVacationGals 60,000 Starpoints giveaway http://bit.ly/UiSg5u and would stay at the St Regis Monarch Beach #SPGAMEX," but with your choice of romantic vacation Starwood hotel or resort in the tweet. You can enter this way once daily as well.
3. "Like" The Vacation Gals on Facebook, and tell me in a comment below.
This 60,000 Starwood Starpoints giveaway ends December 21, 2012 at 6:00 PM PST — what a nice Christmas surprise for someone! The winner will be chosen with a random number generator, and if I don't hear back from the first winner after a week, another random winner will be chosen. Close family members of The Vacation Gals may not enter. Have fun with this one.
THIS GIVEAWAY HAS ENDED. The randomly selected winner has been notified. Thank you for playing!
 Disclosure: I received a 2-night stay at the St Regis Monarch Beach Resort, and am hosting this giveaway, because I'm one of the "SPG AmEx Stars." I receive travel and compensation as a result.