The St. Regis Princeville Resort at Hanalei Bay in Kauai once featured a visual overload of typical Hawaii interior design and details (think grass thatch roofs and coconut husk decor) but a 2009 renovation has managed to heighten the experience of a Kauai vacation while including more subtle Hawaiian details amid luxury and class.  The five-star resort hotel on Kauai's North Shore's top-to-bottom renovation brings modernity to the classically sophisticated Hawaii resort in Hanalei. The magic starts with the name of the locale: Hanalei Bay. And anticipation grows on the way there. Slowly driving down the two-lane highway on Kauai's North Shore, you pass the lush greenery typical of the Garden Isle. Turning onto a quiet, well-groomed road, you'll wind your way by low-sitting condos, a couple of world class golf courses, and some Westin and private villas. Then, as the road comes to a point, you see it: The St. Regis Princeville Resort at Hanalei Bay. In all ways, from the port cochere to the sweeping vista of Hanalei Bay, you'll know you've arrived at one of the best luxury resorts in all of Hawaii.
Just the Facts, Ma'am:
* There are 252 guest rooms at the St Regis Princeville Resort, including 51 ocean view suites. Our "Ocean View" rooms had full-on, knockout views of Hanalei Bay, but many "Garden View" rooms have ocean views from their lanais; there are no bad rooms at the St Regis Princeville Resort at Hanalei Bay in Kauai. This is a fully fledged five-star resort, with the very specific amenities required for the rating (the rating has picky requirements such as a scale in each guest bathroom) and the resort rooms and suites reflect that.
* There are a handful of upscale shops on the lobby floor, but no sundries store exactly. One store sells toothpaste and that sort of thing alongside jewelry, Hawaiian snacks and clothing. The St. Regis Butler Service, by the way, can fetch nearly anything a luxury traveler's heart desires. Call the concierge or front desk for assistance.
* The Halele'a Spa is 10,000 of serenity in an already incredibly refined resort property. While I didn't have the opportunity to have a spa treatment, there is a varied menu. The treatments are based on Native Hawaiian healing rituals, such as the Voyage from the Sea Signature Four Hands massage and facial and the Taro Butter Pohaku hot stone massage.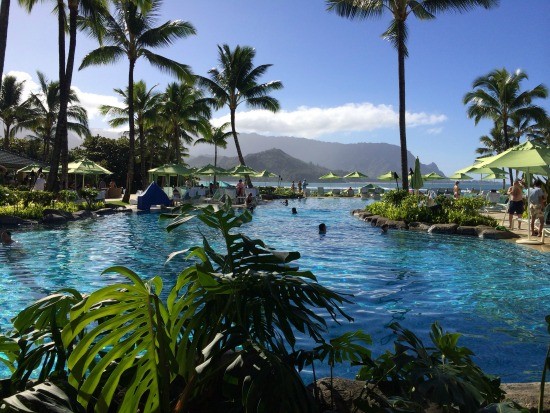 * There are four dining options at the St. Regis Princeville Resort at Hanalei Bay in Kauai. Most notable is the Kauai Grill. This restaurant draws tourists from all over the island, and is one of the best dining experiences in all of Hawaii. Chef Jean-Georges Vongerichten personally created entrees that fuse local and endemic Hawaiian ingredients with accessible bases like fish, chicken and pork. The Kauai Grill joins Vongerichten's other ventures as another enormously successful restaurant, simply the best fusion of food and culture.
* Golf travel fans likely already know about the courses at the St. Regis Princeville Resort. The Makai Course has a completed, somewhat new renovation, and the more famous Prince Course is considered one of the best and most beautiful golf courses in the state of Hawaii — and is even more freshly renovated, in 2012. Both were designed by Robert Trent Jones to make use of the natural curves of the land around Hanalei Bay.
* The Young Voyagers Club at the St. Regis Princeville Resort at Hanalei Bay in Kauai takes resort "kiddie camps" to the next level. The personalized educational programs for children of all ages teach (in a friendly, nonacademic way) about Kauai's natural environment, culture and art. Parents can drop their kids off and go enjoy the spa or gold courses, or create their own family's personalized experience such as snorkeling, hikes, and more.
My Take: Wow, what an incredible resort. The St. Regis Princeville Resort at Hanalei Bay in Kauai opens up to a truly spectacular lobby, with Murano crystals cascading down in the center to bring to mind the nearly waterfalls of Na Pali Coast. This renovation makes the St. Regis a stand out even among other resort hotels of its caliber. The views of Hanalei Bay and the beginning of Na Pali's soaring coastline are on full display here — the setting cannot be beat for a tropical beach vacation. I ran out of an item in my toiletries and was initially dismayed to discover there was no simple sundries shop in the St. Regis Princeville Resort at Hanalei Bay in Kauai.* A call to the concierge resulted in a small paper bag from the spa, stapled closed for discretion, at my door a few minutes later. I appreciated this, and also that the price of this item was on par with the cost on the mainland; I'd expected to pay an exorbitant price for it because this is one very expensive, elite resort hotel.
I mentioned my Starwood Preferred Guest account number and used my SPG/Amex card when making the reservation. While booking my family's rooms, I was asked if we were celebrating anything special — and I mentioned my upcoming wedding anniversary. When we got to our rooms we were greeted with a bottle of Champagne and a lovely anniversary note from Starwood! We also had a delicious ice cream dessert waiting for us after dining in the St Regis Princeville resort's best restaurant. Mmm, salted caramel, my favorite. This is the sort of personalized attention and service that everyone can expect at the St. Regis Princeville Resort at Hanalei Bay in Kauai.
The Young Voyagers Club made me happy. There's something distressing about seeing a family go to Hawaii for vacation, and have the "kiddie camp" be a large room with a television and some balls. The Young Voyagers Club reminded me of what Ritz-Carlton is doing with its Ambassadors of the Environment family programs — embracing a sense of place, exploring the natural environment with respect and love, and getting children to actually learn something about where they are. Speaking with Paul Clark, the director of the Young Voyagers Club, was a delight. He's a treasure for the St. Regis Princeville Resort at Hanalei Bay in Kauai; a marine biologist with an affinity for kids and Hawaii's ecology, he helps all families experience the habitat in the way that best suits them. He becomes especially animated when talking about the nighttime beach walks; flashlights illuminate ghost crabs and other shy nocturnal critters that tourists would otherwise never see. Only the most jaded kid in the world could resist his enthusiasm and good cheer.
The infinity pool, with full-on views of Hanalei Bay and Na Pali's coastline, is designed perfectly. While the beds were (almost needless to say) amazingly comfortable and the breakfast buffet fresh and tasty, the crowning glory of the post-renovation St. Regis Princeville must be the Kauai Grill. There are many great lodging options in Kauai, ranging from cheapo backpackers' hostels in Kapa'a, to very authentic Hawaii vacation resorts, to comfortably upscale resorts that are more manageably affordable. For the most discerning luxury traveler seeking a vacation in Kauai, though, the St. Regis Princeville Resort at Hanalei Bay in Kauai is a great choice. Hawaii culture, flavors and style aren't immediately evident here, but they're woven throughout the fabric of the resort. The classiest amenities and most high end decor integrate with the glory of Kauai's natural beauty to a tee. Just as the Kauai Grill offers fusion cuisine at its finest, the St. Regis Princeville is a fusion resort at its best.
*There are some toiletries available for purchase in a shop with a "Kauai General Store" feel.