Most people would consider Sierra Leone travel to be a little "off the beaten track," but Tom Volpe from HeadingThere has just returned from a trip to the West African nation where he received a warm welcome. In this guest post he tells us of his experience of a wonderful and unexpected invitation to a Sierra Leone beach BBQ.
As we were walking across the runway to passport control I saw the old man. His eyes were milky white, a sure sign of cataracts, but there was still a twinkle in them as he approached me with his hand outstretched. His smile was broad, revealing a gap toothed grin.
"Hello my friend! You are welcome." He took my hand and shook it.

It was the first time I heard these words during our Sierra Leone travel, but it was far from the last. In fact I heard them just a couple of days later sung to us on Lumley Beach in Aberdeen.
Our encounter with the Sierra Leone national dance squad came about by chance really. I was chatting to Mohamed who sold beads and jewellery outside our hotel. He had already become our Freetown 'Mr Fixit' due to his uncanny ability to find us whatever we were looking for at a great price. Taxi to River No 2?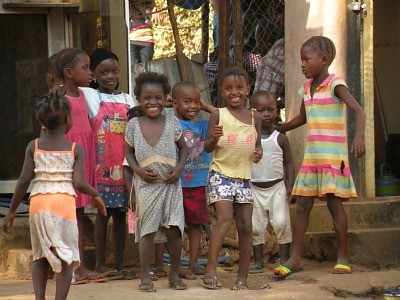 "No problem Tom, are you ready to go now? I know an old man who will give you a good price." He wasn't joking. It must have been near local rates as we paid about half the price other taxi drivers had offered me.
So, when Mohamed told me that he had a friend who was a chef and he wondered if we would be interested in having a barbeque on the beach I leaped at the chance. I mentioned it to the other guys I was traveling with and they liked it too, and liked it even more when Mohamed mentioned that if we liked, he could get some dancers for us. He had a friend who was a dancer who would come.

As we sat on the beach the next night, drinking a cold beer and watching the sun go down, the dancers arrived. Mohamed hadn't mentioned it, but his friend wasn't just any dancer. He was a fire dancer in the Sierra Leone national dance troupe. These guys are to African dance, what the Bolshoi are to Russian Ballet. The big difference being that the Bolshoi aren't likely to come along to perform at your barbeque!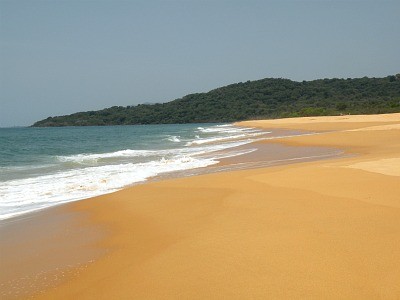 I couldn't believe how lucky we were and we all thoroughly enjoyed their performance. They opened the show singing a song of welcome, the same one I later learned that they performed for Prince Charles when he visited Freetown. The song and rhythm of the drums gathered a small crowd of locals, and one passing lady got so into the show she joined in. As she walked past she danced and waved her arms.
"Welcome to Sierra Leone! Welcome to Freetown!"
We felt very welcome and very at home.

Sierra Leone celebrated the 50th anniversary of their independence from Great Britain on the 27th of April, since the civil war ended more than ten years ago they have held two legal and undisputed elections. From here on out, the popularity of Sierra Leone as a vacation destination can only grow.