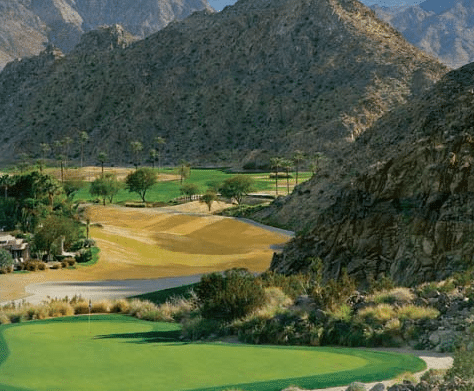 La Quinta Resort & Club, in the Palm Springs area of California, is one of the most beautiful luxury-class resorts I've been to. No building here is more than two stories tall, so that A) there are acres upon acres of perfectly landscaped gardens, replete with fruit trees and brightly colored flowers and B) the views of the mountain are always stunning, without the visual block and long shadows that would be cast by taller buildings. There is a day camp for children, so a family vacation can easily be made to feel like a romantic getaway (at least until pick-up time). I recommend reserving at least one half day of the resort camp for kids ages 4 and up; that way, the parents get to experience the spa or golf course – really, much better without kids.
Be warned: This is a 5-star resort hotel, with the prices to match. Even if you find a great deal on Priceline or some such hotel deals website, there are still other expenses. Here, this includes very expensive food, and a resort fee. Resort fees are often an unexpected "gotcha" at luxury destinations like La Quinta. I must say, though, that this is one case in which that fee was really worth it. The $25 dollar resort fee covers parking (is usually around $10/day at equivalent resort hotels), Wi-Fi (which can be around $15/day at equivalent resort hotels), the fitness center, and pool and jacuzzi use. Those pools don't clean themselves, you know.
The Spa La Quinta – Like Pavlov's dogs, I am practically salivating at the
memory of the outdoor spa experience here. One of Spa La Quinta's signature treatments is the Celestial Shower; it's a 10 minute prelude to other treatments, usually, and outdoors. I recommend following the Celestial Shower with either the 50-minute Native Clay treatment, which is a facial mask to hydrate skin (a concurrent scalp massage aids relaxation), or the 50-minute Detoxifying Seaweed Body Mask, full-body treatment which is surprisingly comfortable and pampering. Of course, there's an array of massages and beauty treatments here as well. If you're planning to stay at this resort during a peak travel season, book your appointment early; this is a destination spa, and sell-outs are common.
The Golf – La Quinta is, first and foremost, a golf resort. Naturally, it has (or has access to) some of the best golf courses in the Greater Palm Springs area. The five golf courses here are the PGA West Greg Norman Course, PGA West Stadium Golf Course, PGA West Jack Nicklaus Tournament Course, La Quinta Resort Mountain Course, and La Quinta Resort Dunes Course. Nearby SilverRock, a challenging course, is one of the hosts for the Bob Hope Chrysler Classic. In keeping with the luxury Palm Spring golf resort that is La Quinta, there is a first-class clubhouse and pro shop on site. Guests of the La Quinta Resort & Club can book a tee time and feel right at home here. The Mountain Course was rated one of the Top 100 Courses You Can Play, by Golf magazine.
Now, there's also tennis, a fitness center, and 41 semi-private pools. But who has the energy for all that stuff? After a morning of golf or body massage treatments, all a parent really wants to do is pick up the kids from the day camp, and snooze by the pool until dinner. Funny how exhausting a massage can be!
Click here for the latest prices at La Quinta Resort & Club.
This article includes affiliate links, which means The Vacation Gals may earn a (small) commission if you click the links and/or make a purchase.