Redondo Beach is hard to accurately label as a Los Angeles vacation destination. Close enough to LAX to be centrally located (but not so near as to have constant airport noise), it's long been a quick stop for tourists heading south to Orange County or Disneyland. There's a lot about the pier that brings the Jersey Shore to mind; Irish pubs, loud blues clubs, tacky tourist shops and the like. But there are also first-class restaurants, fun Southern California water activities, a lovely up-and-coming playhouse, and the Portofino Hotel & Yacht Club. Having  completed a thorough renovation a few years ago, it is clearly the best hotel in Redondo Beach. If Redondo's where you're traveling to, casual elegance at this Southern California beach community is best at the Portofino Hotel & Yacht Club.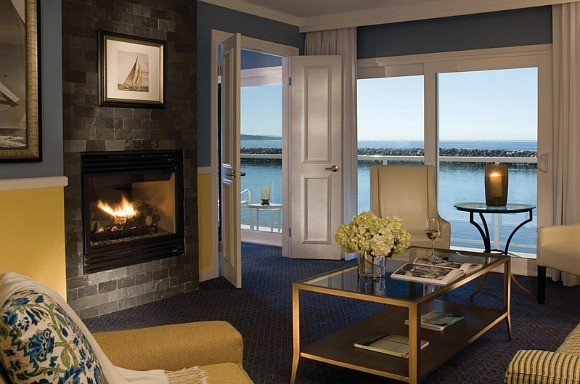 What is Best about the Portofino Hotel in Redondo Beach, CA
  Every room has a water view. One one side, it's King Harbor and the ocean, and on the other, it's the Marina. The ocean side is classier. Tip: Request a room at least 3 floors up for optimal views.
  The renovation has given this 4-star hotel really effective double-paned glass windows. This is important because on the ocean side, there are sea lions a mere 50 or so yards away that bark all day – the soundproofing is excellent. There are also earplugs in each room in case the sea lions are especially rowdy.
  The interior design, done in blues and white with a yellow accent, is very reminiscent of the beach community. The bed is comfortable and the flat-screen TV a modern addition. The rooms are a good size for a couple, but people who like a little extra room should request a corner room – they're bigger.
  The hotel's on-site restaurant, Baleen, is one of the best restaurants in Redondo Beach. The creative presentation and innovative mix of fresh ingredients make Baleen a destination restaurant for hungry travelers and residents of Los Angeles alike.
  The Portofino Hotel & Yacht Club website almost always has good travel deals and vacation packages. A California beach vacation is more affordable with these budget-stretching packages. For example, the Fuel for Fun vacation package includes 3 nights at the Portofino, plus a $100 gas credit (and for the truly "green" traveler, there are always free beach cruisers available).
  The hotel is situated close enough to the pier that it's an easy walk, but far enough away that the noise and ruckus of the nighttime crowds are inaudible. Also within walking or biking distance are several inexpensive restaurants.
  The main floor perfectly captures California casual elegance, what with the quiet bar, simmering fireplace and candles, and large windows facing the ocean. It's impeccably designed, and completely captures the feeling of the place.
What is Not So Great about the Portofino Hotel in Redondo Beach, CA
  The pool is notably small, and unless it's summer, it's very often too cold to enjoy.
  The Marina View side of the hotel also has a full-on view of a big power plant. This is pretty hard to ignore. Tip: If you are staying on the Marina side, request a room in which the power plant is partially blocked by a view of the Baleen restaurant. The power plant's nighttime searchlights are bright, so you'll want to pin your curtains closed if you're staying on the Marina side as well.
  Housekeeping puts a cute stuffed animal – a sea lion, of course – on the bed. This makes for a nice greeting, but the stuffed animal is actually for sale, and atrociously priced. Any young child who sees it on the bed will want to keep it.
While it was renovated less than 5 years ago, the Portofino Hotel & Yacht Club is already showing signs of wear. The salty air does no favors to longevity of paint, clearly.
Despite its issues, this is the best (and only 4-star) hotel in Redondo Beach. Redondo Beach is a fun, regular Southern California beach town, not too fancy but not down on its heels either. Add a little luxury to a midrange vacation along California's southern coast by booking a room at the Portofino Hotel & Yacht Club.
I received a complimentary stay at the Portofino Hotel & Yacht Club, but as always, my reviews are impartial and intended to help The Vacation Gals' readers plan their own trips.