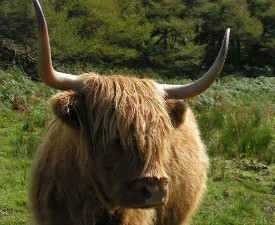 Scotland has been high on many family travelers' lists since Pixar's movie Brave highlighted the stunning scenery and sense of magic around Scotland's history. Yeah yeah, I know: that was a CGI movie, the chances are very small that anyone will see a will o' the wisp during a family vacation in Scotland. But hey — we take our travel inspiration where we can get it! I'm very excited, because my own kids' Scotland travel inspiration came from photos of Scottish Highland Cattle seen in a glossy magazine.  They've wanted to see some Scottish Highland Cattle since then. So, this summer, we're going to Scotland, and it looks like we're going to spend at least a little time in the Highlands looking for those long haired rock-n-rollers of the bovine world. But first, Edinburgh. Edinburgh is a favorite world city of mine, and I love its eponymous castle. Since I'm taking my children this time, a little research has shown five things to do in Edinburgh with kids that we'll be sure to experience.
________________________________
1. Visit Edinburgh Zoo – The Edinburgh Zoo is set on 82 acres just three miles west of Edinburgh city center, and works to both promote conservation of the world's threatened species and to educate and inspire zoo visitors about those animals. It's open every day of the year; with over 1,000 different animals, the Edinburgh Zoo is popular for repeat visits. Children are especially thrilled to see the only two giant pandas in the United Kingdom. Tian and Yang Guang are happy and lovingly cared for, as are all the animals here. Free hilltop safari rides, several play areas, interactive animal encounters and more make the Edinburgh Zoo a top choice for families seeking things to do in Edinburgh with kids.
2. The Edinburgh Castle – Now, I love the Edinburgh Castle, and I'm really looking forward to introducing my daughters to it. Walking up the Royal Mile, which culminates at the castle, is something every traveler to Scotland ought do at least once (and, probably, does. This is not exactly a hidden experience). Some of Scotland's many castles are in ruins, or at least partially so, but the Edinburgh Castle is not one of them. It's in just about as pristine condition as a castle of its age and history can be. Families can just wander the castle grounds, but small tours around the castle are more helpful for children — and adults — to get a sense of the importance of what they're seeing. Take a tour and learn about what day-to-day life was like the Edinburgh Castle. hear about the life of Mary Queen of Scots and the birth of James VI.  Also, try to be at the castle at 1:00PM, as a canon is fired every day except Sunday; this has been a tradition since 1861.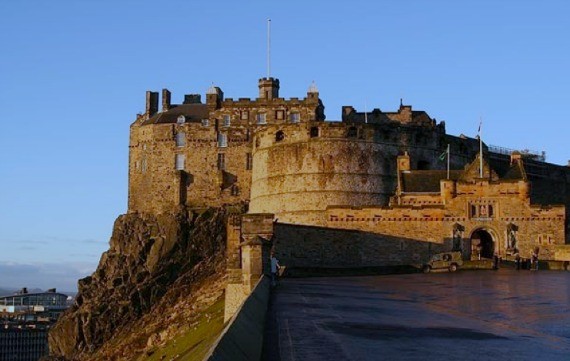 3. Beecraigs Country Park – Just outside Edinburgh city, Beecraigs Country Park is a fun place for Scots and tourists to take their children. It's a great thing to do in Edinburgh with kids, because there will be other kids there to play with; many children will be excited to interact with people their age in this park. And remember the Highland Cattle my own kids want to see? We don't have to go to the Highlands to see them, as Beecraigs Country Park is home to a herd of Scottish Highland Cattle, and a herd of red deer as well. The vast country park has areas for younger children, such the climbing-oriented Adventure Play Station (great for tiring out energetic children), horseback riding, fishing, hiking and other camping activities. The park is open all summer, there are campgrounds and barbeque pits there, and admission is free.
4. The Edinburgh Dungeon — this one might frighten little children, but fortunately for me, my kids are older, and they don't scare easily. The last time I was in Edinburgh I missed the Edinburgh Dungeon, so this is one Scotland travel activity I can't wait to do. It's acted out, so it might be a little hammy (I like ham) and it's considered dark, ironic, and very funny. My Game of Thrones fangirl should really get a kick out of this…although that fangirl is me, not one of my kids, small detail. The Edinburgh Dungeon includes appearances by William Wallace and Mary King's Ghost, apparently, and has rides and shows called "The Judge and the Courtroom," "The Torturer," and"Anatomy Theatre." With eleven live shows, special effects, and real Scottish history integrated into the action, I'm hoping my kids will like the show as much as I think I will.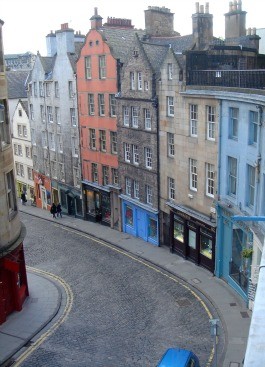 5. Our Dynamic Earth —  There isn't anything essentially touristy about Our Dynamic Earth, as it isn't about Scotland's culture, food, or history. But it's about history alright: ALL history.  It's a 3D and 4D interactive exhibition that allows viewers to watch the Big Bang through the Hubble Telescope (as imagined by astrophysicists). Then, visitors explore the museum and watch the evolution of Planet Earth. It sounds really cool, and my science-loving children will love the effects of feeling caught in a tropical rain and standing on the edge of a volcano as it's about to erupt. It's not the same thing as actually being on the edge of a volcano, of course, but it's the only way to feel close to that experience and have a family vacation in Edinburgh, Scotland at the same time. Another part of Our Dynamic Earth makes it feel like visitors are standing right under the Aurora
Borealis. Sounds like a great thing to do in Edinburgh with kids to me.
Now, there are also other parks, including the Royal Botanic Garden Edinburgh, and other castles like Linlithgow Palace. There's an underground maze of hand carved passages called Gilmerton Cove, and much more. Families will not run out of things to do in Edinburgh with kids, and my only concern is that we won't have enough time there to appreciate all the fun activities before heading to other parts of Scotland. These five things to do in Edinburgh with kids, though? Definitely on our list. Hey, Scotland! See you soon.