Vancouver is consistently ranked among the five most livable cities in the world in terms of safety, access to nature, public transport, international connectivity and other aspects that make for a fun, comfortable and exciting lifestyle. Vancouver is also a fun and exciting travel destination; my partner and I found that even over a stretch of four days of drizzle and grey skies, there was more than enough to keep us busy. Things to do outdoors in Vancouver abound; this really is a great city for exploration. Our two favorite Vancouver city destinations to explore were Granville Island and Stanley Park.  In fact, while we don't know Vancouver like the back of our hands, we can state definitely that exploring Stanley Park and Granville Island, Vancouver, were our two favorite (non-romantic) activities there.
Things to do outdoors in Stanley Park, Vancouver

There are 240 parks and 24 community centers on over 1000 acres (400 hectares) of land in Stanley Park, Vancouver. It's been named the "top park in the entire world" by users of TripAdvisor (2014), though, naturally, online ratings and online voting should always be taken with a grain of salt.
We started at the Seawall, which encircles the entire perimeter of Stanley Park ( we didn't walk the whole though!) and as such provides great views of the beaches and temperate rainforests in Stanley Park, and views of downtown's skyline, English Bay and First Narrows Bridge which is a suspension bridge connecting the city of Vancouver to North and West Vancouver. The Seawall is a great, dog-friendly walk, and it is a smart place to start an day outside in Vancouver. We really get a feel for the layout of the the urban park as a whole, strolling along the Vancouver Seawall.
The ten totem poles at Brockton Point are well-maintained (the originals are being preserved in museums, rather than left outside to rot) and very popular in terms of tourists' travel photos. the original totem poles were carved in the late 1800's  while the new ones were commissioned to the park in the late 1900's (between 1986 and 1992, with one last one having been added in 2009). This part of Brockton Point is very tourist-friendly, with a souvenir shop selling mass-produced First Nations style art (such as dream catchers), t-shirts, fridge magnets and the other standard bearers of kitsch. The totem poles are each described well via little plaques: visitors can learn that the totem poles' style is actually unique to British Columbia and the Pacific Northwest, and akin to a coat of arms.
The Vancouver Aquarium is in Stanley Park, but (despite the rainy weather) we opted to spend most of our Stanley Park time walking along the Seawall. The Vancouver Aquarium is both indoors and outdoors, with many marine exhibits and educational encounter programs. It's Canada's largest aquarium and counts dolphins, sea lions, sea turtles, beluga whales and eels song its 70,000 land and sea animals.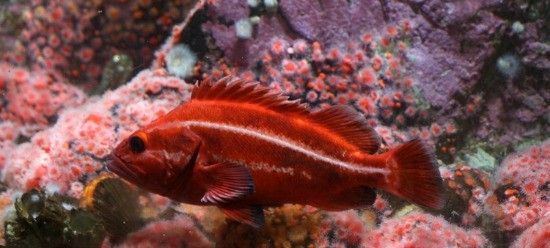 There are two beaches that are accessible for swimming around the perimeter of Stanley Park; English Bay, or First Beach, is the most popular. During spring and summer, there is a swimming raft and slide there, and the kayak rental facility at First Beach is the launching site for many people. Second Beach is also popular and has a heated freshwater pool along with bay swimming. Other beaches (such as Third Beach) are rockier, more rugged, and not considered accessible for swimming. There is a man-made lake right by the park entrance called Lost Lagoon, and a natural freshwater lakes called Beaver lake. Both are home to wildlife like herons and other lake dwellers.
For kids, the Stanley Park Miniature Railway has three complete sets of train cars and the miniature railway's tracks take visitors through a little less than 2 miles of the park. Adults can like the Stanley Park Miniature Railway too, of course, but really, the kids I saw there seemed the most excited by it. There are also horse-drawn carriage as part of the Stanley Park Horse-Drawn Tours operating March-October. These are hour-long educational tours.
Things to do outdoors on Granville Island, Vancouver
Granville Island caught our eye initially because Vancouver as a whole used to be called Granville (during the 1800's) and we had heard that area now is very popular for artists and craftsmen. This sounded interesting, funky and fun, and the island — really, a peninsula — is also an easy walk from downtown Vancouver. Perfect.
Granville Island's Public Market is not just a farmers' market (which we assumed before research, just going by its name). The Public Market on Granville Island has stall after stall of fresh, small batch, amazing fully cooked meals as well as the standard bearers of farmers' market fruits and vegetables. The baked goods smell amazing and permeate the atmosphere; coming here hungry was a mistake. Fresh seafood from local Vancouver fishermen are on ice and ready to grill, though we abstained since we were staying in a hotel.
Emily Carr University of Art + Design is along the same road on this small busy island: Johnston Street is one of just a handful of streets, all walkable though there are parking lots some slow moving cars around as well. In fact, even if you have a rental car, it's better for tourists to walk here and enjoy Granville Island as a whole on foot. Students getting their Bachelors and/or Masters degrees in Media, Design, and Visual Arts add to the artsy, free-flowing atmosphere of Granville Island .
Shops and galleries are a big draw for Granville Island. The aforementioned artsy, free-flowing island feel is most obvious around all of these many independent shops and galleries on Granville land — these are so much fun to wander around in and (perhaps) to purchase original creative arts and craft items. From leatherwork to silk scarves, from heavy kiln-baked pottery to delicate glass-blown abstract statues, the variety of art here is impressive.
There's a "Kids market" on Granville Island too, but this is strictly for younger kids. My teenagers would not have gotten much fun out of the activities here, which include an "Adventure Park/Toddler Zone," a few toy stores (such as the Granville Island Toy Co.) and candy and sweets shops. The families there seemed VERY happy, though. At least the little kids did. The parents I saw were using the space clearly as a place to take a mental vacation. I totally relate.
It was raining, off and on, during our time on Granville Island. If it wasn't, we would probably have rented kayaks to splash around Broker's Bay or False Creek. there are chartered sailboats and champagne cruises as well as kayak rentals, and whale watching is a popular travel activity here.
We spent a day on Stanley Park and would definitely walk the Seawall again on a return trip. While we probably wouldn't ride the miniature train or go on the horse-drawn tour of Stanley Park, we'd enjoy ourselves along the forest paths in better weather too. It's also easy to spend half a day Granville Island alone, eating at the Public Market, strolling through the shops and galleries, and enjoying the water views. Stanley Park and Granville Island are my two favorite touristy outdoor spaces in Vancouver, though next time I'll try to order sunshine and dry weather when booking my flight and hotel stay!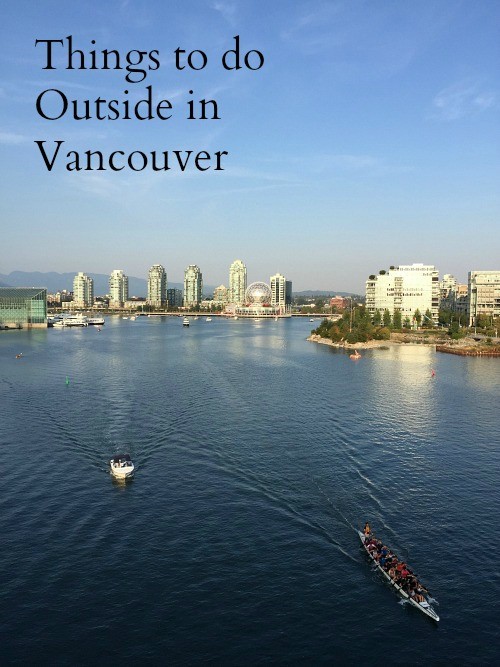 Finding things to do outdoors in Vancouver was a fun by-product of a hosted trip by SPG/Amex.