The list of best restaurants in Honolulu is not short, but there are only a few top Oahu restaurants that provide both fine dining and a genuine Hawaii vacation experience. Hawaii as a whole has left its "only spam and plate lunch" cheap lunch reputation behind — though there's still plenty of that around — with a renewed focus on fresh, 5-star menus and locally grown cuisine. This makes dining out in Oahu a superior vacation experience. Locally sourced, organic produce makes for for not just a fresh dining experience, but an ultimately Hawaiian one. It's great for a genuine Hawaii culinary travel activity…and great for the health of the local environment and sustainable farming as well.
Indigo Restaurant – Indigo is at 1121 Nuuanu Avenue in the Chinatown section of Honolulu. This was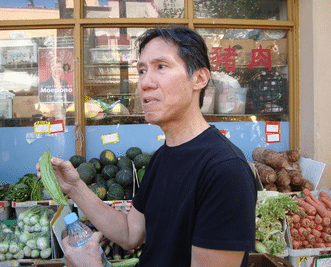 formerly a pretty dodgy part of Oahu that is becoming gentrified with more and more bars, art galleries, and hip restaurants like this one leading the way. The Eurasian cuisine at Indigo is terrific, with locally sourced seafood and veggies. The atmosphere at lunch is fun and light, and Indigo Restaurant gets really hopping at dinnertime. It's very popular with young people, who may be drawn to the creative drinks, fresh Hawaiian food, eclectic decor and different rooms with different styles. Glenn Chu puts a lot of creativity into Indigo, and he's respected in Oahu for being at the forefront of bringing Chinatown back to life (so to speak). I went shopping with him at the local fish and fresh produce markets in the neighborhood, and half an hour later was dining on
many of those fresh items he purchased. The lunch buffet is recommended for tourists who may want to avoid the lively nightlife of Chinatown. Otherwise, try Indigo Restaurant for dinner and drinks, it's a great scene, the food is local and delicious, and you'll have a fun time.
Chef Mavro – Chef Mavro, on 1969 South King Street in Honolulu, is extraordinary. It's not just my favorite of the best Oahu restaurants; it's a AAA 5-Diamond award winner, and called one of the Top 10 Seafood Restaurants by Fodor's Choice. What makes Chef Mavro such a great restaurant? Well, it's not just a place to eat dinner; it's a dining experience. The art of pairing wine and food is taken to the
next level here. There's no wine list — instead, each course comes with a different, perfectly matched glass of wine. The specificity is incredible. Chef Mavro himself sets forth the philosophy of using ingredients found on the Hawaiian islands in his creations, which are among the best I've tasted in any restaurant, anywhere. The six course tasting menu is always seasonal (although of course that means 6 glasses of wine to contend with; whee) and the courses are easily adapted to guests with food restrictions or preferences. Polynesian influences are appropriate here, and Chef Mavro trained in France; that influence is right on the table as well. This is a sophisticated, romantic restaurant, and one that should be on everyone's list for a vacation in Honolulu. It's the top Oahu restaurant for celebrating special occasions memorably.
Alan Wong's Restaurant – On 1857 South King Street, Alan Wong's Restaurant is just a minute away from Chef Mavro in Honolulu. This makes for one high-end dining street. It's been named the Best Restaurant in Oahu by
Hawaii residents, and ranks in the Top 50 Restaurants in America in Gourmet Magazine. And, for purposed of this top Oahu restaurants list, the proprietor Alan Wong is one of the 12 founding members of Hawaii Regional Cuisine (so is George Mavrothalassitis of Chef Mavro fame). Alan Wong's Restaurant is sufficiently famous that you'll need a reservation, especially during peak travel seasons in Hawaii. Alan Wong's "Farmer Series Dinner" exemplifies his commitment to Hawaiian farmers' and ranchers' sustainability. This special menu isn't always available, but when it is, the farmers, and staff mingle with guests at Alan Wong's, but a special culinary experience most Hawaii tourists never get.
Oahu, and Hawaii as a whole, has many 5-star restaurants. These top restaurants in Oahu are notable for their commitment to locally sourced ingredients as well as fine dining. You can't get a fresher meal than these. While plate lunches and poolside drinks are part of most tourists' Hawaii vacations, Chef Mavro, Indigo, and Alan Wong's are three best restaurants in Honolulu that also provide authentic Hawaiian culinary travel experiences.
All meals were enjoyed as part of an organized, hosted press trip.

Explore more gourmet adventures from these other great travel blogs:
Mushroom Hunting in La Marche from Wandering Educators
Five Delicious Foods that Can Kill You from Spot Cool Stuff