Florida's central west coast is like our second home, since "Grandma and Grandpa" live in Tampa. When it's time to hit the beach, we head to Clearwater Beach, which sits on the calm, blue-green water of the Gulf of Mexico. Our favorite Clearwater Beach family vacation attractions and experiences include meeting dolphins, cavorting with pirates, collecting shells, and celebrating the sunset.
Clearwater Marine Aquarium
In 2008, a critically-injured dolphin was taken into the care of the Clearwater Marine Aquarium (CMA) and fitted with the very first prosthetic dolphin tail. Named Winter, she continues to thrive as a permanent resident of this marine rehabilitation center. We met Winter, and can't wait to see her story told in the Warner Brothers 3-D movie "Dolphin Tale," to be released September 23.
The CMA is primarily a hospital and not a "show" aquarium, but we caught a few presentations on the resident dolphins, sea turtles, river otters, nurse sharks, stingrays, and fish. The nearby Sandpearl Resort at Clearwater Beach partners with the aquarium, offering new "Winter the Dolphin" packages which include accommodations, breakfast, a copy of the book Winter's Tale, and admission to meet the charismatic creature. The Sandpearl is a stylishly upscale, yet casual beach resort with a spa, lagoon-style pool, kids' camp and fitness programs.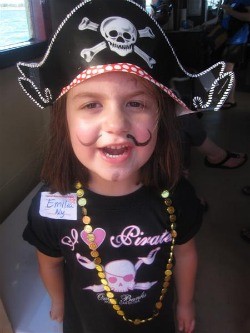 Captain Memo's Original Pirate Cruise
My kids were all smiles from the moment we stepped on board the ship Pirates Ransom for our 90-minute cruise. They were given temporary status as official pirates after reciting a pledge and receiving pirate's hats and water pistols. They joined in on a treasure hunt, danced the Macarena and did the limbo, attacked a "bad" pirate with their water pistols, played musical chairs and listened to stories. I preferred to sit with my drink, listen to the music, watch for dolphins, and enjoy the cruise up the shore.
Seashells on the Seashore
Shelling is one of our favorite activities on Clearwater Beach, since the shore is lined by shells of various shapes, sizes and colors. The beach itself is one of our favorites anywhere. The soft white sand and crystalline waters consistently keep beaches along this coast on "Dr. Beach's" annual "Top 10 Beaches in America" list. What never fails to strike me about Clearwater Beach is the sand quality; it's fine and silky, bright white, and obviously groomed. But, it also gets really hot in the sun, so we tend to visit early in the morning or just before the stunning sunset.
Clearwater Beach is a public beach, so the most congested spots will be close to the public access points and parking lots. Along the Beach Walk promenade connected to Pier 60 you'll find bathrooms, changing areas and snack concessions. Beach activities like parasailing, jet skis, aqua bikes, and paddle boats are available for a fee.
Pier 60
Another great place to appreciate Clearwater Beach is by viewing it from Pier 60. This hub of activity includes a visitor center, eateries, and craft vendors. For my kids, the highlight was the covered playground with two play areas; one for preschoolers and one for older ages. Sunsets are celebrated nightly at "Sunset at Pier 60" festivals. Entertainers begin performing two hours prior to sunset until two hours after, weather permitting. We watched two break dancers do their thing, but other entertainment can include magicians, balloon artists, fire eaters, stilt walkers or jugglers.
Thank you, Sandpearl Resort, for hosting our visits to the Clearwater Marine Aquarium and Captain Memo's Voyage!
GoBIG Gal Traci L. Suppa drags her small-town family to see a quirky array of the "world's largest" attractions, and blogs about it at Go BIG or Go Home.
Save