There are almost countless "best" things to do in Seattle. With the seemingly endless array of restaurants, events and attractions, this great Washington city bears for repeat visits. Even residents likely never run out of fun things to see and do! So, with one long weekend to travel in Seattle, a few friends to show off their top favorite places, and HomeAway.com lodging at the very comfortable Shirley Marvin extended stay apartments in Columbia City (South Seattle), these are the best things I did there. So often, the best, most memorable sights, meals, and experiences we have are often those we do with our friends.
Pike Place Market was tops on my list of places I wanted to explore in Seattle.  Walking through this market —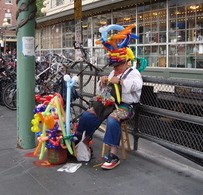 both inside and outside — was just so much fun. It's right on Elliott Bay, and the bustle of Pike Place Market is pleasingly similar to the circus that is South Street Seaport
(about as many tourists, too).  I saw the purported "grouchiest balloon man in Seattle" (we have one down in Santa Monica who could give him a run for his money) as well as the original Starbucks. This is the country's oldest continually running farmer's market, with lots of touristy stuff mixed in with fresh fish and shellfish on ice. Interesting little restaurants, a really beautiful, large flower stand, and offbeat, idiosyncratic Seattle youth working with the merchants add to the color and charm of Pike Place Market. We had a fresh, inexpensive salmon sandwich lunch at Three Girls Bakery; it was fantastic, and I recommend Three Girls Bakery for a cheap lunch in Pike Place Market.
Pioneer Square, which along with the Skid Row Historic District is listed on the National
Register of Historic Places, was another really fun part of Seattle to walk through. There are a lot of art galleries here that show and sell works by local artists, and the open-air art market was arranged comfortably around Native American totem poles and larger than life statues.
The Space Needle is, along with Pike Place Market, iconic to Seattle and a huge tourism attraction. It was, of course, built for the 1962 World's Fair, and today has a revolving
restaurant under the observation deck. During peak travel seasons, tourists can wait over an hour to take the elevator to the observation deck – a ride that lasts less than a minute. I decided to pass on this! Instead, I wandered around the Seattle Center, where the Space Needle is located. The Seattle Center is a park and entertainment center, with a children's museum and the Seattle Shakespeare Company in residence in the Center House building. My host for the long weekend, HomeAway.com, had the Truckster set up here, and I had a relaxed, mellow time hanging out with the "Truckies," telling passers-by about HomeAway vacation home rentals.
Elysian Brewery Company in Capitol Hill has great cheap pub food. Now, Seattle is a foodie's paradise, so I can't say with certainty that this is one of the best brewpubs in Seattle. But the hearty sandwiches go perfectly with hand-crafted brews, and the chicken wings were so spicy they almost defeated the guy at our table (he braved his way through every last one, but it took a while). I enjoyed the mix of people dining and drinking here — from Seattle hipsters to young guys with multiple piercings to refined, upscale clientele, everyone was having a great time.
Two more places I was taken to for java and snacks were Zeitgeist Kunst & Kaffee and The Yellow Leaf Cupcake
Company. Both were really, really good. I have it on good authority that The Yellow Leaf Cupcake Co. is one of the three best cupcake joints in Seattle right now, and what I loved about both places was that customers could hang out for as long as they wanted to. It's great to be unrushed.
Columbia City is an interesting part of South Seattle. I stayed four blocks from the light rail, so downtown Seattle was easily accessible, but Columbia City itself felt like its own little town. It's undergoing some gentrification right now, after having fallen on some rough times. Hipsters and artistic types are moving in, and with them are coming quirky independent shops and great restaurants. Rainier Avenue is the main street here (the Shirley Marvin is three houses up from Rainier), with an art gallery, fashion shop, omnipresent Starbucks, and more. A bunch of other travel bloggers and I had dinner at TuttaBella: This restaurant was recently named the 2010 Independent Pizzeria of the Year by Pizza Today, a national pizza trade magazine. Pretty impressive! We all agreed that the pizza here was the best around; Neopolitan style, each pie made fresh to order, with fresh ingredients and the perfect blend of spices. I loved it.
Alki Beach is in West Seattle, so it can be challenging to get to if you're dependent on the light rail system. Alki Beach sticks out into Puget Sound, and lots of large cruise ships can be seen across Elliot Bay. Locals and people on vacation alike spend all day on Alki Beach. It's easy to see why; there's the beach, of course, plus plenty of restaurants (including a couple of terrific fish and chops joints) and people-watching galore. While hanging out at Alki Beach, I saw several kayakers enjoying themselves, lots of children playing in the sand, and plenty of people simply strolling, enjoying the day on Seattle's only public sand beach.
The last place I went during my whirlwind four-day Seattle travel experience was the Tom Bihn factory. Full
disclosure: Tom Bihn is currently the official luggage sponsor of The Vacation Gals. We only work with companies which we completely respect, however, and here's why we love Tom Bihn: The luggage company is 100% based in the United States — in this one factory in Seattle, in fact — and uses American-made fabric, and obviously pays the employees a livable wage and health insurance. Tom Bihn himself is proud to show off his factory and what his company has achieved. He's an artist with passion for what he does, and his employees match that passion with loyalty. The company's been pretty busy lately: MacWorld named the Tom Bihn Ristretto their favorite iPad bag (it's also perfect for netbooks). The factory has been making and shipping off Ristrettos as fast as possible now, and it's their latest bestseller, dislodging longtime bestseller the Brain Bag. The factory is open for tours on Mondays, but call ahead. It's a nice experience, and you might fall in love with the looks, hardiness, and quality of Tom Bihn luggage as a result, too!
Four days isn't enough time to explore Seattle, Washington and really get to know it. I'm thrilled that my local friends took the time to show me some of their favorite places. I know I'll be back.
Save