Mention travel to Ibiza, and many people think of young tourists partying and clubbing throughout their Spain summer vacation. It's true that an Ibiza vacation often includes the nightlife scene for 20-something travelers, but this married 30-something found the island to be great for a romantic trip as well.
Now, I've often thought that there are two basic types of travelers in this world: all-inclusive-ers and the rest of us. I know some people swear by the ability to bask in the easiness and non-decision making relief that makes for a great vacation. I don't buy it. Or at least, I didn't.
You see, I'm always been an active traveler. I want to see and do as much as possible with appropriate bouts of down time to enjoy a tranquil coffee, have a beer, people watch, etc. I want the planning and the decision-making. I even like (afterwards) the petty arguments with the husband about just how many museums he can drag me to before I scream for mercy.
The words "all-inclusive" to me always conjured up images of old fogies gorging themselves on wilted lettuce and ranch dressing while arguments break out about who's going use the shuffleboard next. But my recent trip to Ibiza in the Balearic Islands has changed my mind. Not so much that I am going to be searching out early bird specials on cruise ships, but enough to count the days until I can return to this beautiful place.
The Island of Ibiza, Spain
A common misconception about Ibiza is what attracts people to the island in the first place: It's a party town. And it is…it really, truly is a place to go when you want to soak up the sun, beer, wine, copas, and probably anything else that you might need to, uh, "lift your spirits."
I have to admit that, I arrived hesitant and snobbish to the island. "We are not the Ibiza type," I told my husband while we were waiting in line for a taxi outside the airport.  The line was a mile long and was made up of young, tall, blond Germans and Swedes, and a ton of sweaty English travelers that had already turned beet red just from being in the Spanish sun for 5 minutes. Now, don't get me wrong, my husband and I aren't that old and we still like a good night of boozing it up now and then.  But it was clear that these youngsters had come for one reason only – la fiesta.
And, of course, Ibiza won't disappoint in this department. It is the mecca of discos and clubs and chill-outs, and whatever else one may invent in order to charge €50 to enter and look cool and vapid a lá Paris Hilton.
But Ibiza is so much more than just a hyperactive disco playground of beautiful people.  The true appeal of Ibiza is its beautiful calas, or coves. The island is surrounded by picturesque beaches hidden away in remote areas around the island.  They are simply breathtaking, all of them. If you're a semi-old fogey like me and hitchhiking is not your thing, renting a car is fairly cheap. The island is pretty easy to explore, although you'll have to navigate some fairly "rustic" paths that require a lot of slow driving and then a little hiking, but once you hit the beach – whichever one you choose- you won't be disappointed.
The Hotel Cala Verde in Ibiza
We stayed near Santa Eulalia del Rio which is to the northeast part of the island – away from the chaos and overrated posh-ness of Ibiza town. This was also one expensive taxi ride (about 45€!), but we were determined to stay away from the crowds. There is public transport that will let you off near the hotel, but it requires a few bus transfers. With luggage in hand, the taxi was certainly worth the expense.
Arriving at Hotel Cala Verde was a relief after passing 20-25 minutes in the cab and driving through countless tiny pueblos and thinking that, "this is it" 10 times. Finally we arrived, and I was in heaven! Cala Verde is an expansive bungalow style hotel built into a sloping mountain. It overlooks its own private cove with a beautiful beach that stretches along crystal clear waters and lined with burnt orange cliffs.
Now while the hotel was fantastic on all accounts, I should mention that sloping mountain could be a bust for some. The center of the hotel, the pool, the dining area is on flat ground, but the majority of the rooms are above and the beach is a two minute walk downwards and a steep walk upwards. It's a little hard on my own robust 35-year-old thighs, so it is not the the best hotel in Ibiza for anyone with mobility problems. They do have a sister hotel which is right down the road and on flat land.
We arrived early, about 10:00 a.m. and the check-in crew told us to help ourselves to the breakfast buffet while they finish preparing the room. The breakfast buffet consists of way too many things to list, but the highlights were freshly-baked croissants, chocolate and cream Napolitano's, pancakes, churros, sausage, and even baked beans to make the Brits happy. Even though buffets have always reminded my of the Shoney's nightmare of my youth, the food here is really superb. They put so much effort into providing a variety of dishes for every palette and the dining room always seemed full of staff to meet specific needs of the guests. Oh, and the all – inclusive deal includes self-serve cold beer and wine. Viva España!
There's one thing that is especially charming about this hotel – its multiculturalism. You will find families of almost every nationalities here – French, Spanish, Italian, German, etc. And you know what? It's a fantastic environment and the hotel has really made it work well. Everyone on staff fluently speaks a variety of languages and they really try hard (without being too pushy) to involve everyone in the many activities throughout the day.  There was a ton of families there, but the hotel is spread out enough that singles and romantic couples can enjoy themselves without any bother. They have a great animation team for kids and it's amazing how they can get all the different nationalities to work together in silly skits and all kinds of activities throughout the day.
I should mention that while this is simply one of the best hotels I've been in, it's not exactly what you would call frilly. The rooms are nice, large, and clean. They all have huge terraces either with an ocean view or a garden view. The beds are not anything special – not too soft, not too hard. There is a fold out couch in all rooms which is comfortable for families with children. There's no flat screen television, the toiletries are minimal and you can borrow a hair dryer at the reception desk -if you feel like hiking down there. I hate to call the rooms basic, but they are. It's not a bad thing. The feeling of the hotel is almost like your own home away from home. Comfort and service are the objectives here and it's quite refreshing.
So, if you are a parent or a couple and you are looking for a great hotel in a great European vacation, try Ibiza – to the north. If you're single and looking to mingle, hit Ibiza town, but don't forget your glow stick, ratty hair extensions and cheesy "tribal" tattoos. It seems as if they're mandatory to enter the clubs!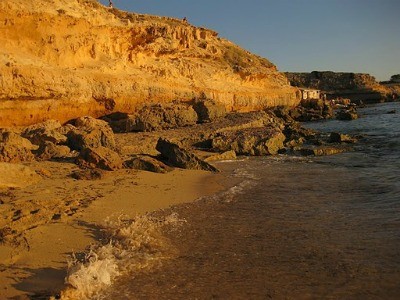 Presently living in Madrid, SpainGal Nicole Jewell enjoys the guilty pleasure of forcing her cute Spanish husband to take her to various Spanish cities in order to explore the beautiful beaches, profound history, and distinct culture of the Spanish way of life.