Universal Studios and Islands of Adventure in Orlando, Florida are two of the most popular theme parks in the theme park capital of the world. Discount tickets can be found online, but these are often harder to come by during the peak travel seasons. Universal Orlando VIP vacation packages, while not befitting a cheap Orlando family vacation, are a great way to help the vacation be a lot more fun.
A theme park vacation in Orlando over Spring Break – sounds like a headache for the parents, doesn't it? When kids are out of school, the lines at Disney World and Universal Studios are, reliably, nightmarishly long. However, under most circumstances, it's exactly school vacations that allow family travel to happen. The driving from hotel to theme park, the standing on line for over an hour for a 5 minute ride, the Florida heat and crowds; these are all aspects of Universal Studios and Islands of Adventure in Orlando that I was NOT looking forward to, unless "…with dread" counts. Fortunately, we were able to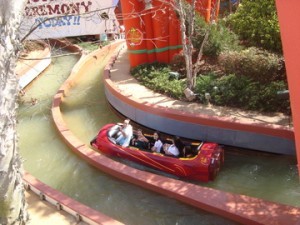 reduce that travel headache a thousandfold with a family VIP Pass as part of our Universal Studios vacation package. A VIP Pass does more than let your family cut in front of the lines at Universal Studios and Islands of Adventure: A personal tour guide is yours for the day: He or she lets you in the back doors of the rides and attractions, regales children with fun stories and trivia about the theme park, and holds your stuff while you bliss out with the special treatment. The Universal Studios VIP Pass package is not cheap, but for people who cannot abide spending 75% of their theme park day standing on line, it's worth every penny.
Disney World has its FastPass Program, and Universal Studios and Islands of Adventure have Express Pass
Plus tickets. Both allow theme park guests to cut their waits for rides to maybe 10 to 15 minutes. For a family vacation in Orlando with less stress and annoyance of those long lines, both are heartily recommended. The Universal Studios VIP Pass vacation package takes it one step further, to a complete avoidance of lines, plus a backstage look at some aspects of the the parks. Our guide, Robert, told us about his favorite restaurants, and we were happy to ask him to join us for lunch.
Another aspect I enjoyed at Universal Studios Orlando was staying at Loews Portofino Bay Hotel there. The harbor boats take guests (for free) to the Universal Studios theme park and CityWalk. By the way, the room key cards at the Universal Orlando Loews hotels (Portofino Bay, Hard Rock, and Royal Pacific) all work as Express Pass Plus tickets. They even serve as charge cards, so visitors to the theme park can charge souvenirs and meals to their rooms back at Loews hotel. If we were to spend another theme park family vacation in Orlando, I can't imagine doing it any other way.