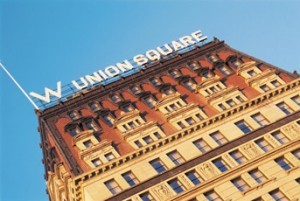 I visit New York City more often than any other large city in the US (not counting Los Angeles, since I live there). NYC is the unequivocal champ of United States tourism; it's been the most traveled to North American destination for years. Obviously, then, there are many, many hotel options in the city. The W Union Square hotel in New York City is one of my favorite spots in NYC, and has been, for years. However, I've only actually stayed there once, recently; until now the W Union Square has actually been one of my favorite NYC hangouts because of its neighborhood, restaurant and lounge.
W Union Square Hotel Location
It doesn't take a brain surgeon to know that this hotel is in Union Square. But for the uninitiated, Union Square is a ton of fun. It's close enough to NYU that the atmosphere is young and vibrant, and there's a three-times-a-week Farmer's Market in Union Square that adds to the area's liveliness as well. Add in the fun, funky shops (plenty of chains, admittedly, too), the Whole Foods and the Trader Joe's, and it's easy to see that diverse, fresh food is just steps from the W Union Square any time of the day. Sure, there are tons of hotels in Times Square, and Times Square is as centrally located as you can get in NYC, but it's also a zoo. Union Square is not uncrowded, don't get me wrong, but it's a lot less intimidating for the crowd-averse traveler than is 42nd Street. I love hanging out in Union Square even when it's not where my hotel is located, so clearly, staying at the W here makes one of the most fun parts of the city exceptionally easy to get to.
 W Union Square Hotel Rooms
There are 270 guest rooms, and 16 suites in the W Union Square hotel in New York City. The bedding is really very plush and comfortable, and there are a couple of different pillow styles on the beds (I like soft, mushy pillows, someone else may prefer them firm; this way, everyone's happy).  Now, I was able to hear New York City street noise from my room. If this is a problem, it shouldn't be a deal-killer; just request a room facing a quieter street. Mine was overlooking Union Square.  The W hotels always have high-end Bliss bath products. Bliss is wonderful; the Bliss Foaming Body Wash and Bliss Body Butter were especially joys to see in the bathroom after a long, hot day of walking the NYC streets. While the room itself was clean, modern and sleekly luxurious, the bathroom could use some tweaks. I couldn't get the shower door to close all the way, which annoyed me because it meant there were big puddles on the bathroom floor after each shower.
W Union Square Dining
The Living Room Lounge — Long before I ever stayed overnight at the W, I'd eaten and hung out many times at this hotel while visiting friends in NYC. The Living Room Lounge on the main floor lobby is a great, popular and hot place to "see and be seen," but also to relax on comfy sofas and chairs with friends and a drink or three. I have lots of good memories of cosmopolitan revelry in the Living Room Lounge at the W Union Square; it's not a gross, overcrowded and too-loud bar but instead a lounge, for grown ups. There are even chess and checkers tables; it feels a little bit like a sophisticated cocktail hour scene from Mad Men. Classy.
Olives —  Internationally famous chef Todd English creates the seasonal menus at Olives. Make sure to make a reservation for weekend dinners, as Olives is itself destination restaurant. This is basically Mediterranean cuisine with a modern twist, like Todd English's Olives outposts in Boston, Las Vegas and Washington DC, but the NYC flair is evident from the get-go. The ambience is buzzy and fun, with the waitstaff seeming to have a good (albeit professional) time as well. Like The Living Room Lounge, Olives is a restaurant for grownups. Even the dining NYU students manage to step up to the occasion. The views of Union Square Park, the open wood fires, and second floor add to the sense of a wider landscape and open feeling here.
Lilium — Lilium is an uber-modern, highly designed bar, with small plates (also available at Olives), house cocktails and craft beers. It's louder than The Living Room Lounge and Olives, with DJs supplying the beats and adding to a festive scene.
There's 24-hour room service, of course, but for genuine New York City scene dining, the real deals at the W Union Square are its swanky, fun restaurant, lounge and bar.
There is also a fitness center, and in-room spa treatments. I didn't have the opportunity to check out either, however, I can at least attest to the flawless high speed internet access at the W Union Square. Having stayed at a fair share of hotels with sluggish wifi, believe me, that's a nice thing. There's an internet fee, as there is with most luxury hotels these days.
Now, I stayed at the W Union Square during the beginning of New York Fashion Week; there were quite a few lovely young things at the hotel while I was there. While this was admittedly kind of intimidating, at no time did the staff brush other guests aside to pamper the models and their attendants/entourage/mothers. Believe me: I was ready to be ignored once those goddesses started slinking around! However, attempting to check out at the front desk left me waiting longer than I believe a hotel of the W's class and stature should. This slow-poke front desk may have been due to the steady influx of fashion models at the time, rather than an ongoing problem. Guess this calls for a repeat visit, for purposes of thorough research. I would definitely stay at the W Union Square in New York City again.
I received a complimentary stay at the W Union Square as part of my ongoing Starwood Preferred Guest  American Express "Amex Stars" partnership. All opinions expressed as mine.