Waikiki is a lively, urban destination in Oahu; the Waikiki Beach Marriott Resort & Spa is on Kalakaua Avenue across from the famously warm Hawaiian Pacific Ocean. It makes for an affordable luxury travel experience.
Waikiki is the most distinctly urban travel destination of the entire state of Hawaii. This appeals to travelers who enjoy having access to high-end shopping, a plethora of dining options, and a hopping nightlife. The Waikiki Beach Marriott Resort & Spa is right across the street from the beach, on busy, tourist-friendly Kalakaua Avenue. It's a terrific option for anyone planning a vacation in Waikiki, Hawaii and plan to redeem Marriott Rewards Points.
Waikiki Beach Marriott Resort & Spa Property Information
This is a big, vertical hotel. Of course, most hotels and resorts in Waikiki are oversized, but the Waikiki Marriott feels more manageable than some. There are 33 floors, with 1,294 rooms and 16 full suites. The rooms are a comfortable size; request an ocean view and an upper floor to have a sense of remove from the business of Waikiki if you prefer. There are also 20 meeting rooms with 55,000 square feet of total meeting space; work retreats here in Oahu are popular with big businesses.
There are many shops, stores and a few restaurants on the open ground floor of this Waikiki resort hotel. Some of them line Kalakaua Avenue, and tourists stream in and out of those stores pretty constantly. There's the ever-present ABC Store for cheap Hawaii gifts and souvenirs, as well as a ukelele shop, some clothing stores, and two Seattle's Best Coffee shops. On the ground floor but within the Marriott property's interior are a few other stores, a wonderful restaurant, and a Hertz rental car outlet.
Waikiki Beach Marriott Resort & Spa Restaurants
The best restaurant on the hotel property is Sansei Seafood Restaurant & Sushi Bar. There's more than one Sansei; this intrepid reporter has also sampled the wares at the Sansei Seafood Restaurant in the Waikoloa Beach Resort area on the Big Island. Both dining experiences were absolutely superior. Anyone staying in Waikiki (regardless of the hotel) should consider making dinner reservations at Sansei Seafood Restaurant & Sushi Bar.
Other restaurants on the resort property are the Kuhio Beach Grill (this one has a breakfast buffet), the casual poolside Moana Terrace, aforementioned Seattle's Best Coffee, Arancino di Mare Italian restaurant, and d.k. Steak House. This last is an all-American steakhouse, and very popular. Sure, there's nothing authentically Hawaiian about it, nevertheless you should expect a hungry crowd at d.k.Steak House!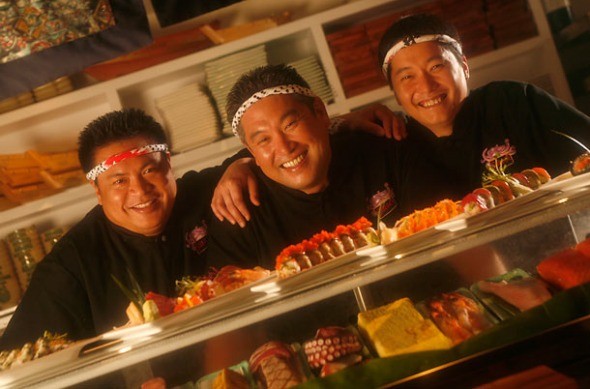 Spa Olakino Salon
The hotel spa requires appointments. Several standard treatments are available to choose from, including body scrubs, body wraps. facial treatments, therapy baths, and more. Call ahead for an appointment. Particularly in an urban travel destination like Waikiki, a calming spa treatment provides a peaceful respite during vacation.
Marriott Rewards Points
The Waikiki Beach Marriott Resort & Spa is a Marriott Rewards category 5 hotel. It is a luxury hotel in a highly desirable vacation destination, and the Marriott family deserves respect for how its rewards system allows families to access a level of resort hotel that would perhaps normally be out of financial reach. A working family can save up their Marriott Rewards Points all year and cash out with a wonderful Hawaii vacation experience.
The Waikiki Beach Marriott Resort & Spa is well-situated for the urban beach vacation this city provides. Even young children will be able to walk the short distance to the Honolulu Zoo, and of course the beach is across the street. The resort pools – the Kealohilani Pool and the Paokalani Pool, and both heated, with towel attendants nearby – for times when guests are in the mood to forgo the ocean. The pools are a little small and plain compared to resorts that cater fully to family travel, though. Despite this, the Waikiki Beach Marriott Resort & Spa is a very good option for upscale urban Oahu lodging, be it for a family vacation, honeymoon, anniversary, or any other type of lively travel experience in Waikiki, Oahu.
The Waikiki Beach Marriott Resort & Spa provided me with a two-night stay as part of an Oahu press trip.