Kauai is the rainiest of the Hawaiian islands, and winter is its rainy season. Since many families can only vacation when their kids are off school, a lot of people find their Christmas holiday in Kauai to be marked with a little rain every day. The great part of this is, though, that Hawaii is still tropical, and the rain and sun are not mutually exclusive in the slightest. Even hiking through one of Hawaii's most lush forests, in the rain, is an awe-inspiring and memorable family activity. Hiking Kauai's Waimea Canyon proved to be one of the best highlights of our vacation in Hawaii.
Yes, it's true; we went for a hike in the rain. We'd been invited to the island so that I could share our favorite family experiences there on this blog. My kids weren't exactly pleasures to be with at the time. In fact, if shooting dirty looks at their mama worked as intended, I'd probably have turned into a toad, or at least a more spoiling, indulgent mother. Nonetheless, it just feels irresponsible to stay inside a hotel room all day when the beauty of Hawaii hid behind Kauai's stop-and-go weather outside. We had scheduled a hike in Waimea Canyon for the morning, rain or shine. Or, more appropriately, rain AND shine. Simultaneously. We counted seven rainbows on our drive to Waimea Canyon.
Waimea Canyon is on the west side of Kauai, a mostly roundish island. It starts at the base of Waimea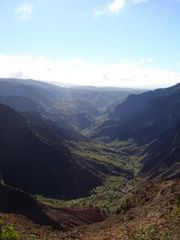 Canyon State Park, and ascends gently. We headed west from Poipu Beach resort area, and got to the base of the canyon in half an hour. The main road up takes travelers (still by car) up to the Kokee State Park, where trail maps are available at the Kokee Museum for around $2.00.
Now, we did a very easy hike, in accordance with the wishes of our damp and petulant children. There are strenuous hikes as well, and be warned: They start off going downhill, so the hard part is the return trip! Experienced backpackers and hikers should have little problem, but us suburban types knew our limits. We took the Pihea Trail, a very scenic walk along the Kalalau Valley rim, through the wet forest. For those intrepid hikers traveling without young kids, the park ranger recommended the Kukui Trail: This trail, while just 5 miles round trip, is a steep hike into Waimea Canyon, with an elevation change of around 2,000 feet. The Waimea River runs along the bottom, having carved out this canyon much as the Colorado River carved out Wailea's larger cousin, the Grand Canyon. Because this is Hawaii, you know that a volcanic eruption was also at least partially involved in the creation of this natural wonder.
The Pihea Trail hike itself was along through a forested trail, with no vistas or views until the end. But Waimea Canyon is called "The Grand Canyon of the Pacific" for a reason: We're talking breathtaking, panoramic views of Napali Coast to the west, and of the cliffs of Kauai's interior to the east. Anyone who's been to the Grand Canyon will agree that Wailea Canyon's nickname is well-deserved. It is like a greener version of that other, more famous canyon. Waimea Canyon is over 3,000 feet deep, and around 10 miles long, with gorgeous gorges and buttes. The photos I took, remember, were on a somewhat rainy day. Imagine the vibrancy of those red cliffs in the sun.
We looked out at the Kalalau Valley and Waimea Canyon as a family. Those children, previously whining about being cold and wet, fell silent. I asked them what they were thinking. "It's so amazing, it's awesome," said the younger daughter quietly. My older kid (who really was getting on my nerves just 10 minutes prior) thought for a moment. She said, "I only hear the wind going past me, and I only see these cliffs. I think someone 500 years ago could have been standing right here, feeling the same wind and seeing the same cliffs."
She's right; it's timeless. There is something about awe-inspiring vistas that bring out the poet philosophers in everyone, even those who would rather be watching TV in their hotel rooms. The Waimea Canyon in Kauai did just that, for our traveling family. This truly is the best hiking area in Kauai. It gave us a memory we'll carry with us for the rest of our lives.