Maui is the favorite tropical vacation island of many travel authorities (and we're talking in the world here, people, not just of the Hawaiian island chain). Naturally there are a ton of lodging options on Maui, from cheap hostels to mind-bendingly expensive full-service luxury resorts. When you've grown up and out of the hostel scene, but like most travelers can't justify spending a huge chunk of your annual travel budget on a 5-star resort in Hawaii, consider the Westin Ka'anapali Ocean Resort Villas in Lahaina, Maui. They're closer to the luxury vacation experience than you might think, without the matching price tag.
Five great things about the Westin Ka'anapali Ocean Resort Villas
The absolute absence of sales pitches regarding vacation ownership. Lots of us have been suckered into sitting through time share or vacation ownership sales pitches, but this does not happen here. The Westin Ka'anapali Ocean Resort Villas in Lahaina, Maui are part of Starwood's property exchange program, the Starwood Vacation Network. But honestly, there's ZERO vacation ownership type of pressure or pitches for people staying here (unless you ask for it). There's a desk in the main lobby, but no one points you to it or urges you to consider even a discussion.
Westin Heavenly Bedding — Are any of you finicky sleepers? I can be, and the Westin Heavenly Bed system is truly the best, most reliably comfortable bedding I've experienced in a hotel or resort. Plush, soft, with different pillow options (mushy vs a little more support) have made Westin Heavenly Bedding my favorite of all chain hotels' bedding.
The rooms are suites, set up as fully equipped apartments. This means a real, full kitchen. Nothing helps save on daily travel expenses like a kitchen en suite. Like most resorts in Hawaii, Westin Ka'anapali Ocean Resort Villas has a breakfast buffet. these are always pretty exciting at first, but by the third or fourth day, not so much. When you just want a bowl of cereal and some coffee in the morning, it makes so much more economic sense to buy a box of Cheerios and take care of it in your own hotel room.
Dining options — if you don't want to prepare every meal in your suite's kitchen (and please, you're on vacation, just…just don't) have no fear. The on property dining options will do just fine. We ate at the Pailolo Bar & Grill several times; it features casual fare like burgers and gigantic hot dogs, salads and sandwiches. Pulehu is an Italian restaurant, with great dinner options (call ahead for a reservation). We had Christmas dinner at Pulehu, and it was one of the best meals of the trip.
Pricing. Starwood SPG members get amazing deals — currently offered are complimentary nights, 35% off and double Starpoints current offer, to reserve from Jan 1 to June 30. Even without SPG membership, though, the Westin Ka'anapali Ocean Resort Villas are the deal of the island. The warm, friendly service, the location on the dry and hospitable part of the island, the amenities and the large new rooms are normally associated with 4-star resorts and high price tags. The Westin Ka'anapali is no budget motor lodge, but even the rack rates are much more affordable than you'd expect. The bang-for-your-buck quotient is fantastic.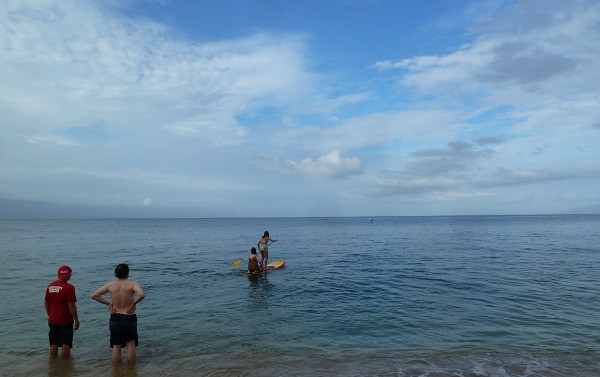 A complaint or two
There is a three minute walk from the North Westin Villas to the South Westin Villas for breakfast buffet – not that big a deal, but it's not precisely on the North property. The North Westin Villas area has lovely koi ponds and a decent pool, but the South Westin Villas' pool is much more fun for kids; it has a small waterslide.
Also, I heard several people complaining that their rooms had no hot water. These weren't people I knew, but I overheard this on two separate occasions. My family had no problem with hot water running out, and in fact it was a seamless trip. However, I'm sure those other travelers weren't complaining for no reason.
The Westin Ka'anapali Ocean Resort Villas in Lahaina, Maui are your best bet for a close-to luxury resort vacation in Maui without the price tag. And for SPG cardholders, the property-specific savings vis a vis Starpoints make membership even more worthwhile.
My family and I received a complimentary stay at the Westin Ka'anapali Ocean Resort Villas as part of my ongoing Starwood Preferred Guest American Express "Amex Stars" partnership. All opinions expressed as mine.