Dude ranches in the American Southwest conjure up all sorts of romanticized imagery, from horses grazing near cacti in the morning to a lone cowboy strumming his guitar by a fire after sunset. The American Southwest has captured our collective imagination and resulting movies (like City Slickers) have led to the popularization of dude ranch vacations for a taste of that purely American "Wild West" experience. That experience, and so much more, is there for the taking at the White Stallion Ranch in Tucson, Arizona.
A multigenerational family vacation and the 3,000 acre property White Stallion Ranch are perfectly suited for each other. We took our kids and my parents-in-law to the ranch for a family vacation, and everyone had a flawlessly great time. We were there for four days, and we rode horses (at least) once every day. There's more to White Stallion Ranch than horse riding, of course, but that quickly became our favorite ranch activity. We chose slow rides and fast rides; other options are mountain rides, all-day and half-day rides, team cattle penning — this is one we really want to try the next time we're on a dude ranch, by the way — wine and cheese rides and the even classier beer and cheetoes rides, lessons, and hay rides.
But, for my urban and suburban family, a long weekend of extended horseback riding through the brush was a continual highlight. Sure, it's a lifestyle for plenty of folks, but this really make our vacation just what we wanted it to be. The horses are happy and healthy, gentle and sweet (one of mine was very stubborn, too, about nibbling on some reedy grasses while walking through them). The guides are obviously also happy to be there and show city folk the slower life on a working ranch. Four days, six different half-day rides, and every one left us looking to sign up for more. We didn't "get" the appeal of long, exploring horseback rides before, but now we do.
There are lots of other activities at the White Stallion Ranch too, here is a quick list:
•    Horseback riding
•    Hiking
•    Hayrides
•    Rock Climbing
•    Swimming
•    Tennis
•    Volleyball
•    Rec Room Gaming
•    Petting Zoo
•    Cookouts
•    Live Evening Entertainment
That's a lot of activities! Certainly enough to keep a multigenerational family vacation on the ranch occupied. We only rode horses and hiked, and..well, ate a lot if eating counts as a vacation activity! The meals here are ranch style, delicious and plentiful. It's pretty amazing, how riding horses for a few hours whets the appetite. Something of note is that the wine menu here is classy; even my oenophile father-in-law was impressed. Drinking a couple glasses of wine as the sun sets in the desert, and a farm hand starts strumming his guitar and singing nearby, is a memory my parents-in-law, husband and I will take with us forever.
The White Stallion Ranch in Tucson, Arizona borders the Saguaro National Park, and those amazing saguaro cacti are everywhere. Since these are very slow-growing plants, those giant saguaro cacti  are easily a hundred years old. These cacti are protected and only found in this part of Arizona. It's an hour and a half flight from Los Angeles to Tucson, but the topography is so distinct, it feels like being in a different country. Honestly, it's an ideal desert vacation for beleaguered suburbanites; I get the whole "City Slickers" thing now. Even a few days at the White Stallion Ranch is enough to feel relaxed, rejuvenated and ready to face the rest of the world.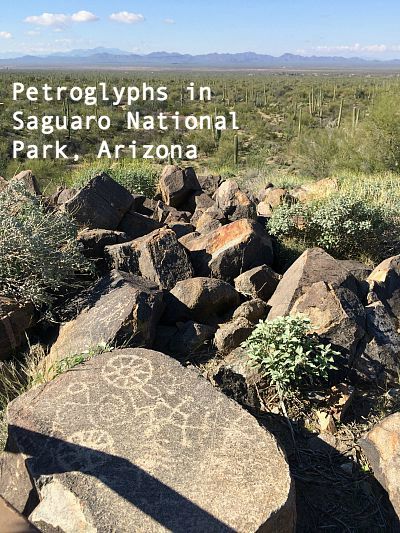 One activity off the ranch that the staff are happy to arrange is a hike to petroglyphs at Signal Hill in the Saguaro National Park. The hike is very easy, though it's usually pretty hot (this IS part of the Sonoran Desert, after all). While it's not what I'd call an accessible hike, it is only about half a mile with limited elevation changes, with a path that is usually easy to see and use. Signal Hill has lots of petroglyphs from the Hohokam, a pre-Columbian people who marked stones with some desert animals, and even more geometric designs whose true meanings are lost to time.
I participated in the National Park-guided hike to Signal Hill's petroglyphs the last morning of our multigenerational vacation at White Stallion Ranch in Tucson. The rest of my family opted for — you guessed it — one last half day horseback ride. It was amazing to see the vast expanse of the desert, quite literally as far as the eye could see, and imagine the Hohokam eking out their lives there from around 400 AD to the mid-1400's. We don't know why they disappeared; their homes were already in ruins when Spanish explorers reached Arizona in the 1500's, and other people had taken their place since. What remains now of those ancient people is scratched onto boulders, facing the sun as a last testament to their forgotten generations and lives.
Heading back to the airport with my extended family, I look at my relaxed parents-in-law, my satisfied husband, my tired and happy children. Special multigenerational family time together like this etches its own memories on our lives. How will our children remember it? What will they tell their own kids? Perhaps multigenerational family travel at places like the White Stallion ranch creates our own petroglyphs, our own testaments to our lives together for future generations to appreciate, too. There is nothing on earth more valuable.
My extended family and I were hosted on this marvelous dude ranch vacation.