Rain at Walt Disney World, the Happiest Place on Earth – seems like an oxymoron doesn't it? But, it does happen and there's not a whole lot you can do about it. On our one and only trip to the Magic Kingdom in Orlando, Florida, we encountered not just rain at Disney, but a cold downpour. The paths were flooded, our clothes were soaked and, yet, we still managed to have the time of our lives. Maybe it was the Disney magic or, perhaps, just our optimistic nature, but we truly made the most of it. Here's some tips so you can, too.
1. Don't panic. Florida rain showers are usually fast moving. Many times the rain leaves as soon as it arrives. But, be sure to watch the Weather Channel so you can prepare if needed.
2. Bring the right gear. If rain is in the forecast the day(s) you plan to visit Walt Disney World, stop at a super-store and buy umbrellas and rain coats or ponchos (or order ahead of time). The options in the park are branded and cost a lot, but the main reason to purchase them beforehand is that you may need them for your walk from your car to the tram to the park. By the time you arrive you may already be wet. We bought the mouse-themed ponchos in the park just as the rain started to come down. They kept our torsos dry but by the end the kids' sleeves were soaked and a few of ours were shredded from taking them on-off to eat, use restroom, etc. I did wish I had brought real rain coats and boots for all of us.
3. If you are visiting during winter, wear warm clothes. Orlando may be equated with sunshine, but winter is still winter. We ended up purchasing hats and gloves for the entire clan.
4. Wear the best shoes you can. My husband and I wore tennis shoes (remember it's a lot of walking), but I observed many people slipping in flip-flops or walking in soaked Ugg boots. They were miserable and voicing their discomfort.
5. Rent a covered stroller for the kids. We ended up taking this option and we would do it again. The kids' heads and bodies were protected from the rain as we dashed between attractions and we didn't have to worry about them walking in the puddles. (Good call, honey.)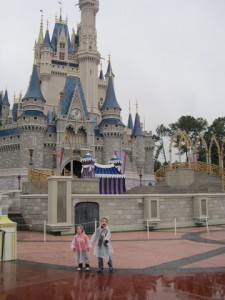 6. Still plan to ride. The rides don't shut down in the rain and while the ride lines might be shorter than a beautiful, sunny day, there will still be lines. It's a Small World and other covered-line rides become particularly popular. The rides outdoor will have wet seats. I've heard that bringing a towel can be handy, but honestly some of the seat were drenched and the only thing saving my jeans was my stylish poncho.
7. Meet the characters. This ended up being the highlight of our day. To be honest, I had no plans to stand in line to meet the Disney characters, as our kids are thrill seekers and I envisioned us being on rides all day. But when we encountered the Fairy Godmother and saw their eyes light up, I ran to closest gift shop and purchased two autograph books and pens. Then, during the worst of the weather we ducked into meet the princesses, the fairies, and Mickey and Minnie.
8. Keep a good attitude. Because my husband and I kept high spirits, the kids did, too. As we were leaving Disney's Magic Kingdom, the rain gone and the fireworks exploding behind us, my daughter said, "Mommy that was the best day ever!"
And it was!
Looking for an amazing off-site location for extended friends/family? Try this Orlando vacation home that we stayed at with our friends from YTravelBlog. There is plenty to do on a rainy day – or a sunny day! It's affordable luxury for large groups, and super close to the parks!
Pin It for Later!