It is almost that time of year when the top Midwest shopping destination Mall of America in Bloomington, Minnesota (suburb of the Twin Cities) will be decorated with jingle bells and customers dash from store to store looking for the perfect gifts. "Shopping vacations" (a trip with shopping as the focus) are actually popular year-round, and I happen to live 10 minutes from this famous mall, locally it's called MOA.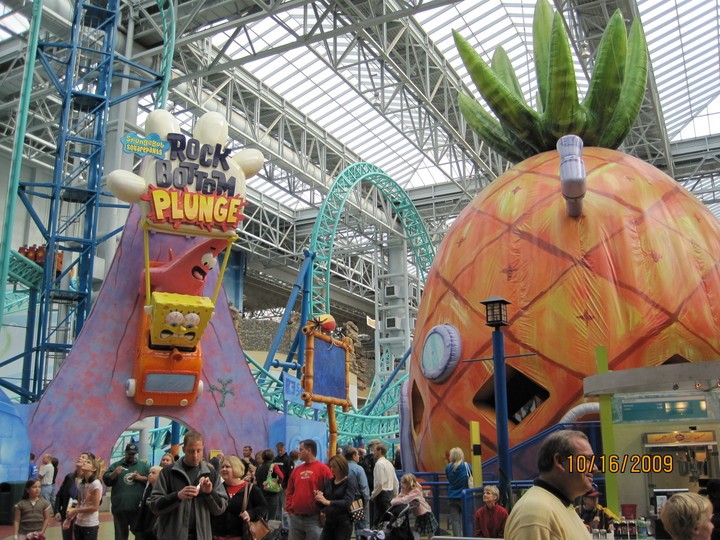 At the Mall of America, four out of ten shoppers are tourists. This Midwest shopping paradise has over 520 shops, including three major department stores: Macy's, Nordstrom, and Sears.
Nickelodeon Universe amusement park sits in the mall's center, plus there is a movie theater, 18-hole miniature golf course, the Underwater Adventures Aquarium, and the new Amazing Mirror Maze.
According to the MOA facts: 32 Boeing 747s could fit inside the mall. Can you see why it's one of the Midwest's top shopping destinations?
Compare hotel prices near Mall of America today. 
With shopping season on the horizon, or if you're making your trip to the Twin Cities into a shopping vacation, here are a few tips on this mammoth mall that will help your shopping experience be a pleasant one:
1. Parking. There is plenty of covered parking places at MOA with the occasional patch of outdoor lots. Parking is free, but it's extremely important you pay attention to your garage, floor, row and section.
The covered parking looks just like airport garages and are tremendously huge, making it very easy to get lost.
Every section has picture clues on the posts, so take a photo of your location with your phone. If you want to forgo the parking experience, you can valet park at Macy's.
2. No Sales Tax. This is cool information worth sharing: Minnesota does not charge sales tax for clothes and shoes.
3. Expect to spend cash. I admit, we've walked through the park many times but have yet to indulge in the rides or experience the aquarium.
Nickelodeon Universe has over 25 rides, from toddler rides to flipping roller coasters, but it's still an amusement park and the cost the money for an unlimited ride bracelet.
If you have a large clan, the cost can add up – so if you do it, plan to make a day of it (you can come and go as you wish from the park, as it's open to everyone).
I did notice the typical amusement park  food prices are not exorbitant (and don't forget to try some local cheese curds which are on the menu), but there is a huge food court a short elevator ride away.
4. Beware of the thieves. I met my new friend Mary Ann (and fellow travel blogger) and her children at MOA a couple of weeks ago and as we were eating lunch a lady approached us and recommended we not to leave our purses on the back of our chairs (mine was) because people are known to walk by and swipe them.With everyone dressed (disguised) in winter wear, we could easily see how that could be a problem.
5. Free attractions. Simply exploring the mall is entertainment itself, but often there are free events going on.In Nickelodeon Universe, even if you don't ride the rides, popular characters will make a meet and greet appearance (we met Dora last weekend).
And be sure to check the MOA website for the latest events. For example, last weekend we stopped to watch architecture students and engineering firms build sculptures from nonperishable food items – it's called Canstruction.
No matter what your reason is for going to Minnesota's Mall of America, you will find something for everyone. For the girls, there is the new American Girl store and Barbie Shop, and both of my kids love the Lego store and Build-A Bear. If you're going with your girlfriends, grab a latte from Caribou Coffee and have a blast – just don't forget where you parked!
Best of all, Mall of America is located next to the Minneapolis-St. Paul International Airport. Book your hotel here.
This post has affiliate links which may result in The Vacation Gals receiving a small commission. 
Pin for later!