The last time we went to Portland, Oregon, my husband and I took our kids. This time, we left them at home for a romantic weekend touring the best vineyards and wineries of Willamette Valley, near Portland, Oregon. Now, one of the best romantic getaway vacations I can recommend are winery tours. The verdant, hilly settings of most vineyards set the scene for a memorable romantic weekend, and the simple act of sampling a few varieties of wines while relaxing on a patio, sun warming our skins, is enjoyable and luxurious in a way that popping open a cold one in front of the TV just…isn't.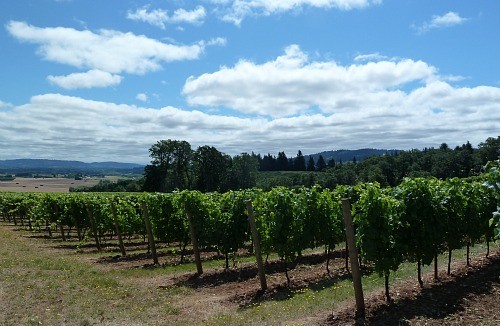 We rented a van and drove (slowly and safely!) from winery to winery. Traveling here with friends (two other couples) meant plenty of chatter, laughs, and warm feelings. There are a LOT of vineyards and wineries in Willamette Valley (it is Oregon's Wine Country, after all); it was hard to narrow our choices down. We decided the best wineries near Portland, for our purposes, had to have beautiful vistas as well as reputations for turning out notable wine. A top-notch Pinot Noir sampled in a dim cave wasn't the experience we were looking for, we wanted to enjoy being outside on a beautiful summer day with that glass of wine in hand.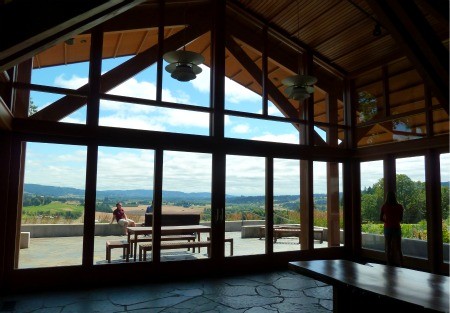 Penner-Ash Wine Cellars — Pretty, pretty views of Willamette Valley from the indoor tasting room, which leads right outside for the same views plus breezes and sunshine. Yes, this is Oregon, but summer isn't too rainy…or maybe we got lucky. Driving from downtown Portland, Penner-Ash Wine Cellars was a natural choice for our first stop; it's in northern Willamette valley, Oregon, and an artisinal winery with a boutique feel. Estate-grown Pinot Noir and Pinot Gris are fantastic and, for those of us used to Napa Valley prices, almost bizarrely affordable. We bought a bottle of Riesling to ship home. Penner-Ash focuses on Pinot Noir, as most Oregon wineries rightly do (the soil, slightly salty air, and climate makes for the best Pinots). It was named Winery of the Year by a local wine tour company called Grape Escape. The boutique winery has the friendliest, most down-to-earth guy in charge of the pours that we encountered on our wine tour of Willamette Valley.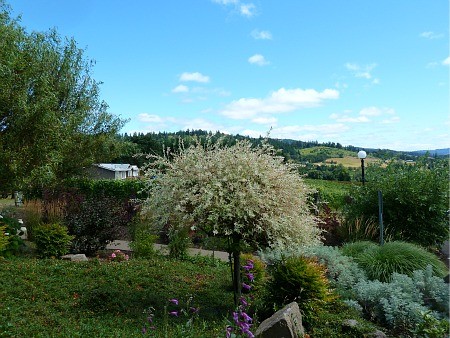 WillaKenzie Estate — The indoor tasting room is large, glows with natural light, and features busy winery employees manning the pours. Outside, it's even better. Low, green hills, vineyards near and far, an enormous stone patio for taking in the views, and a few smaller outdoor areas for semi-privacy. We had a picnic lunch here, and the flight of wines we ordered seemed to go on forever. The woman in charge of the pours was slightly irritable initially; the indoor tasting room was bustling and she didn't have time to fill our glasses outside, she said. No problem, I replied, I can get the fresh glasses myself.  Hearing this, she immediately softened and gave us friendly, generous service and pours. The WillaKenzie Estates wine tasting menu started with Chardonnay and worked its way to richer, more complex reds, ending with a Syrah. We started, in turn, with fruits and cheeses and worked out way to the spicier salamis to match the wines. If you're planning a picnic lunch as part of a romantic wine tour vacation near Portland, the unrushed, relaxed style of the Willakenzie wine tastings is the best! Remember: Sit outside.
Bergstrom Wines — Again with the Pinor Noir? Why, yes, again, but try it. You'll like it.  Again, Willamette Valley terroir really produces outstanding Pinot Noir.  The Chardonnay at Bergstrom is also great; not too sweet yet fruity. Like Penner-Ash, Bergstrom is a smaller wine producer, a boutique winery run by a winemaker (eponymous Josh Bergstrom) who studied winemaking in France. While the most highly rated wines here are Pinots, I really enjoyed the Sigrid Chardonnay in our tasting menu as well. Unlike some other wineries in Willamette Valley, no reservations are needed for wine tasting here; it's first come, first serve.
Domaine Serene — This winery notable for its award-winning Pinots and Domaine Serene was named the 2007 Winery of the Year by Wine & Spirits Magazine. Oregon's talent for Pinot Noir in particular is seen here: the 17th annual Wine & Spirit's Restaurant Poll named Domaine Serene Pinots as the "Most Popular Oregon Pinot Noir in the country." Oenophiles may remember that in a blind taste test, Domaine Serene Pinor Noir beat out the best Pinots in France (the Domaine Serene vs Domaine de la Romanee Conti" blind tasting). Any romantic getaway involving wine tours near Portland should include a stop at Domaine Serene; however, we actually skipped this one. Nice to know there's a top winery waiting for our return trip.
Are West Coast wines the best wines in the United States? Sonoma and Napa Valley, California wineries have basically had a lock on best reviewed North American wines for a while now, but the same coastal breezes, rich soil, and other markers of great places to grow wine grapes are found in California's Central Coast, and in Willamette Valley, Oregon. The best wine tours in Willamette Valley make for rejuvenating romantic getaway vacations near Portland, Oregon.