The American Girl store at Mall of America here in Minnesota draws doll-loving girls locally and from out of town.
But I believe that's the case for any of the American Girl locations in the United States.
Long before I was a mother I remember working flights in and out of Chicago where passengers were mothers and daughters on their annual trip to the American Girl shop.
I remember thinking, I'd love to do that with my daughter one day. Happily, that day recently came.
Every since we moved to the Twin Cities my daughter Madeline has been dreaming of an American Girl doll.
To be honest, I didn't know much about the store or process until last weekend but now I have an appreciation for the experience.
History. Each of the named American Girl dolls comes from a specific era, ranging from historic to modern day, and has her own books filled with stories of her life and an entire wardrobe which may include themed, casual and dressy outfits from their time period. Some of the girls' lives are intertwined with the other dolls.
Shoppers aren't limited to the era-inspired girls. If fact, the Mall of America store has two display cases filled with various unnamed girls with a wide selection of hair and eye color combinations so girls can choose a doll that resembles their own coloring if they wish.
Be forewarned, American Girl dolls are expensive. Every doll starts and that's before purchasing books and accessories.
The American Girl store at Mall of America is two-levels and rather impressive. I'd like to point out some of the highlights: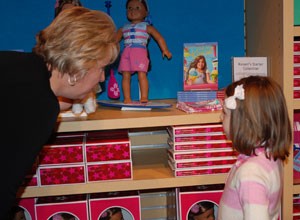 Personal Shoppers. If you feel overwhelmed about where to start with your American Girl experience, the store at Mall of America has two complimentary personal shoppers.
It's best to make an appointment, especially if you're new to American Girl and would like the full run-down on the different dolls.
We walked into the store with a doll in mind – Rebbecca – but after our tour with our personal shopper Mary, the decision changed.
Madeline had to decide between the Girl of the Year 2011 Kanani who hails from Hawaii or one of the traditional dolls in the series, Molly from war-era 1944.
In the end, Molly won – because she has an option for a Hawaiian themed grass skirt – the best of both worlds.
In addition to the doll, we opted for the Molly Accessories Set (cost the money) which includes a locket, navy beret, purse, pretend coin and a hankie with her name on it.
We also bought the American Girl brush which is make specifically for the doll's hair.
What really impressed me was how good Mary was with Madeline. She was on her level the entire tour, explaining the girls and their personalities in an age-appropriate manner.
Mary's passion for American Girl dolls was apparent. When we were checking out she told Madeline how to brush Molly's hair and to never cut it – because it won't grow back!
After arrived home Maddie kept telling me all of the different characteristics of the different dolls. I was bewildered. She had soaked up every word Mary spoke about the doll collection.
Doll Hair Salon. Going beyond the realm of shopping, American Girl offers more than just a purchase-and-leave experience.
Girls can return with their doll for Doll Ear Piercing or the Spa Deluxe package, where stylists give the doll a facial scrub which includes a pampering set with cucumber stickers for her eyes, nail decals, flip-flops, a salon cape and a faux face mask.
The Pampering Plus package (in addition to salon visit) includes a set of nail decals. The stylists also offer a hair style of the month .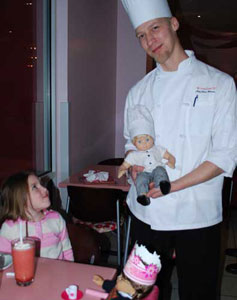 American Girl Bistro. Our experience at the American Girl Bistro was the cherry on top. Every doll who accompanies a child (there are male dolls, too) receives a highchair that attaches to the table.
But not only that, the doll also joins in the meal with a mini cup and saucer filled with lemonade – yes, the girls like to help their dolls sip the cold beverage.
The adult and kid menus have a nice selection of delicious options. We're planning to return to try the Lollipop Brownies.
Our server Jasmine was fantastic, she was animated and terrific with my daughter, qualities I noticed every American Girl employee possessed.
When our food arrived, Madeline was surprised to find her fruit was cut into heart and star shapes, but she also got a kick out of the visit from Chef Chris and his American Boy chef doll AJ (personalized just for him).
The pair made the rounds chatting with guests and were even kind enough to let us snap a photo. Not only is the restaurant decorated in a swanky all-girl pink theme, the American Girl Bistro has a fantastic view of Nickelodeon Universe.
Final Thought. If you're looking for something special to do with your daughter, American Girl is a lovely option.
While we were there, my husband and son were doing the "guy thing" at a Wild hockey game and we've decided that from now on this will be our "girl thing" to partake in from time to time.
Snce our visit, my daughter hasn't stopped talking about her American Girl store experience.
I'm thrilled she's so excited about her new doll and very happy she will have American Girl as a childhood memory.
For readers in the Southeast, there is an American Girl Store in Alpharetta, Ga., a suburb of Atlanta. You can read all about creating a magical experience there in this post about all things American Girl in Atlanta.
Pin for later!