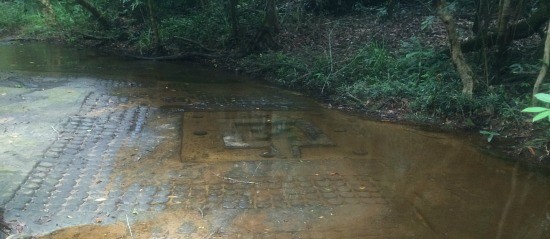 The River of a Thousand Lingas in Siem Reap, Cambodia, provides a hands-on (and feet-in) look at Hindu mythological and religious carvings in in Kbal Spean River. This river is very important spiritually, historically, and culturally (in terms of agriculture) because it flows down to Angkor Wat and into the Siem Reap River, which in turn flows into Tonle Sap, the largest lake in Cambodia. It is the spiritual and historic ties the River of a Thousand Lingas has to Khmer culture that make it an especially interesting part of travel in Cambodia.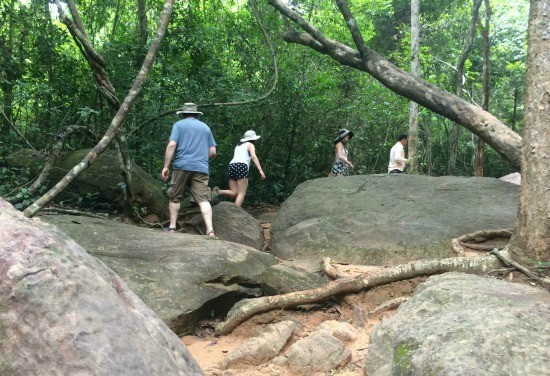 Now, the majority of travelers to Siem Reap stay near Angkor Wat, visit Angkor Wat for a couple of days, and then relax by their Angkor Wat-adjacent hotel's pool and pack up and leave. But Siem Reap is more than Angkor Wat. Traveling to Cambodia is no mean feat for Westerners; now that we've taken the long, multi-flight trip to get to this country, it's a great idea to experience more of the country than its most renown tourist attraction. After all, we can laze by a pool almost anywhere. How often do we get the chance to immerse ourselves in the living history and culture of Cambodia, where Hinduism and Buddhism meet and intertwine? Kbal Spean, also known as the River of a Thousand Lingas, is northeast of Angkor Wat. It's a half-day trip to get there, hike to the bridge head, and experience Cambodian history in an uncrowded, untouristy environment.
The hike takes approximately an hour to get to the top, and we have to watch out for thick, twisting roots that often drape the rock-and-dirt pathway through the jungle. It feels very remote; Kbal Spean certainly is a far cry from the camera-happy crowds of Angkor Wat. As we make our way up the tricky mountain we see only four other groups of people, and this adds to a sense of adventure and discovery. Wide, flat boulders jut out in irregular patterns, and as we climb over them it is easy to imagine monks, so long ago, doing so without the aid of bug spray, rugged water shoes, and sunblock hats.  All along, we could hear the quiet whisper of the tropical jungle. This is an ancient, ancient part of the world, with nature taking over any attempts to tame her. How insightful of the monks, to integrate their mythological symbols into this river, rather than to try to change its path. Nature is paramount here, and more significant alterations would have been foolhardy.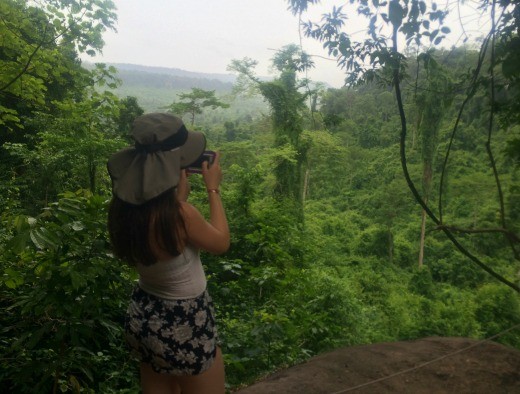 We hike up to the River of a Thousand Lingas (Kbal Spean River) in the heat of the summer; the thick Cambodian jungle may provide some shade from the sun, but it sure doesn't do the humidity level any favors. While we sweat our way up the mountain, we notice that our Kensington Tours private tour guide barely breaks a sweat — and he is wearing a long sleeved button-down shirt! We listen carefully (and gratefully, as he also provides water bottles) as he describes the historic and cultural significance of what we will see at the peak of Kbal Spean River's Kulein mountains.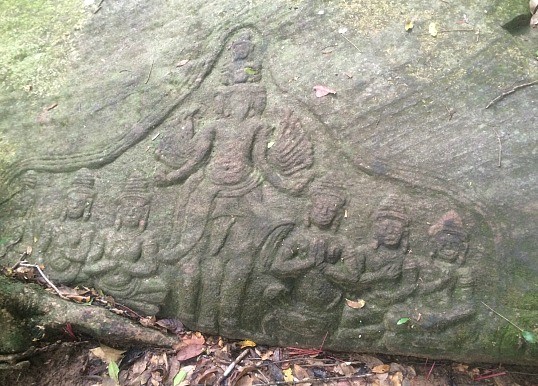 The Cambodian mountain range is no more hot and humid now than it was in the tenth century: back then, monks carried heavy carving tools up these hills to carve the thousand lingas and other bas relief images of Hindu gods and goddesses. Where are most of these rocks carved? Right on the large flat boulders that the water flows over! Lingas are phallic symbols, basically, and the flow of the river over them sanctifies the water. This water, thus sanctified, continues down the Kbal Spean River through Angkor Wat and eventually becomes a tributary feeding into Tonle Sap lake, Cambodia's biggest lake.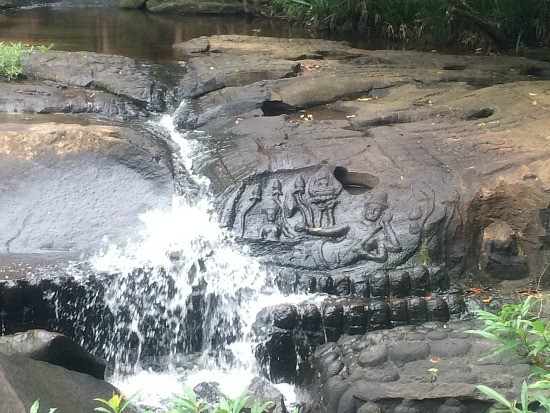 The monks' task of carving these Hindu gods and symbols here was very important, in that the carvings served to sanctify so much of Cambodia's water supply (and nearly all of Siem Reap's). Imagine the effort it took to lug their carving equipment up and down the Kulein Hills. I'm certain that those monks were as uncomplaining and serene as our Kensington Tours guide. As we make our way along the sometimes treacherous, grown-over path, we know that we're the ones who are out of place: surely, people climbing to the River of a Thousand Lingas ought be wearing handmade sandals and flowing saffron robes. We are visitors here and fall into a respectful quiet that matches that of the jungle.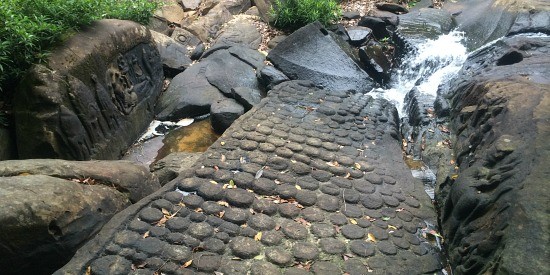 Besides the thousand lingas, we see carvings of Shiva, Brahma, Lakshmi, Vishnu and Rama. There are hidden carvings, and our guide carefully parts vines to show ancient works that had, for centuries, rested undisturbed as they kept watch over the flowing river. The River of a Thousand Lingas is an astonishing, rich and detailed area, so deep in the jungle that it feels like a discovery to finally reach the area after the long ascent. Cooling off in the waterfall is its own reward, as is the joyous splashing around in the river.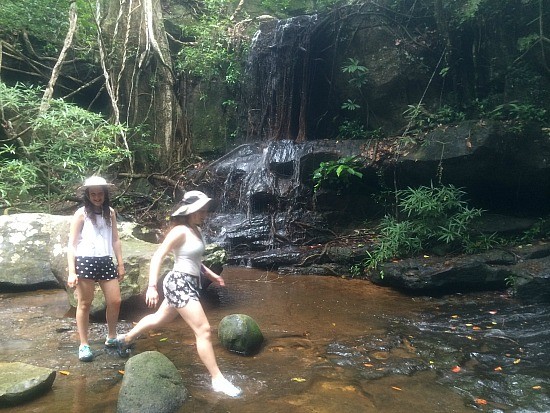 The hike back down can be muddy, and we visitors will end up dirty and sweaty when we rejoin civilization at the bottom. That's perfectly okay with us, even our teenage daughters. After all, we are so lucky. We were able to experience Kbal Spean, feel its significance for Khmer culture, and touch the waters made holy by those monks so long ago. Muddy legs and dirty faces are nothing compared to the deeper, richer understanding of Cambodian history that we'll take with us for the rest of our lives.
Kensington Tours provided private guided tours of Cambodia for my family during our Southeast Asia vacation.