Fall foliage is the best thing about autumn, especially for those of us who don't enjoy cold weather. Living in Los Angeles has many weather-related perks, but I really miss leaf peeping in the fall. My family and I used to go to Central New York in November and see some of the last of the fall foliage around Thanksgiving, but our Thanksgiving weekend travels have changed in recent years.  Leaf peeping is such a missed opportunity for me, and while I can't imagine raising my kids in a better environment than our little part of LA, I sure do wish our trees changed colors in the fall.  My cowriter Kara just showed off some of Colorado's fantastic fall foliage, which led me to day dream about another state she's familiar with and its fall foliage as well. Leaf peepers have plenty to see in New Hampshire!
Fall foliage in New Hampshire can be appreciated by residents just by looking out their windows, of course, but local travel has more opportunities to see glorious trees changing colors than ever — the summer was a relatively dry one. Concord, New Hampshire's capital, is central and makes a great home base. Stay in Concord and hike or drive to wilder areas, to come back to Main Street. The State House is right on Main Street, along with many non-chain restaurants, cute shops, and art galleries. Almost 100 percent of those shops, galleries and restaurants are independently owned; this is a  wonderful sight to see for those of us surrounded by Gaps, Starbucks, Banana Republics and the like.
If the urban center is not to your liking, a weekend of fall foliage in New Hampshire can be seen in a valley surrounded by the woods. Sounds lovely, doesn't it? The Waterville Valley resort is next to White Mountain National Forest, with leaf-peeping galore. It must feel like an embarrassment of riches to walk and hike in White Mountain National Forest, especially considering that our nation's oldest interconnected network of hiking trails are within this national forest. A couple of local Autumn events are the Fall Foliage Celebration (October 10-12) and a Valley Halloween Celebration (October 24).
For those people seeking to enjoy fall foliage in New Hampshire, but who don't particularly enjoy hiking (hey, it happens), weekenders can take a train through the trees. There are three sightseeing trains in New Hampshire that take travelers through forested areas of the state. The Conway Scenic Railroad in Conway and the Hobo Scenic Railroad in Lincoln provide more than just leaf peeping opportunities, they both provide a a lovely experience; a glimpse into the romantic past of train travel. The Conway Scenic Railroad departs from an 1874 Victorian Station in North Conway Village, while the Hobo Scenic Railroad is notably family-friendly and winds along the Pemigewasset River. Last, the world-famous Cog Railway winds its way from its Bretton Woods base up along the tracks of Mount Washington.
Helicopter rides are decidedly more noisy and less romantic than train travel, but the rush of adrenaline makes up for that in spades! I loved my Maui helicopter ride, and people who want an aerial view of fall foliage in New Hampshire will presumably love Seacoast Helicopters' fall foliage tours 'without the traffic." there are helicopter flights every day, from 7:00AM to 1:00PM.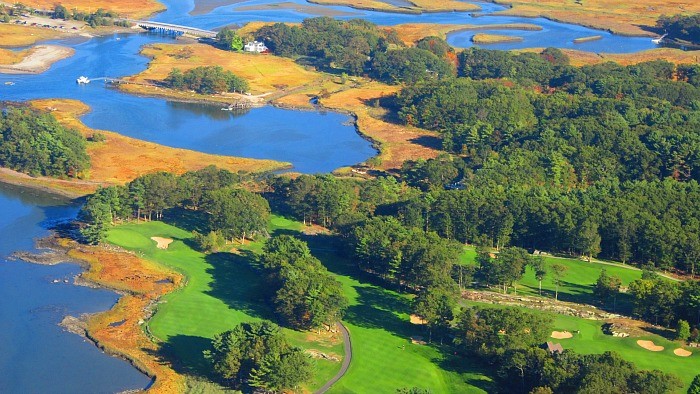 One last notable way to appreciate fall foliage in New Hampshire is to take a cruise. No, not a weeklong mega-ship cruise in the ocean; it's quite a challenge to do leaf peeping on one of those huge boats, after all. Lake Winnipesaukee has boat rentals, but even better, the M/S Mount Washington is steered by capable New Hampshire captains who love showing off their state and all its fall colors. The dark blue water of Lake Winnipesaukee really highlights the vivid oranges, reds and golds of the trees in the fall. October has special Fall Sunset & Foliage Dinner Cruises from Weirs Beach every Sunday.
The state tourism board has put together a fall foliage tracker, updated twice a week. Fall foliage in New Hampshire can be seen in all its glory in October, but by Thanksgiving, it's basically gone. Leaf peepers in New York and New England can take advantage of New Hampshire's gorgeous trees changing colors every Autumn, though, making the state one of the nicest places to be as the seasons change.